A new poll came out yesterday in the gubernatorial race between Jay Inslee (D) and Rob McKenna (R) yesterday. The poll was by Seattle-based Strategies 360, and showed McKenna leading Inslee 43% to 39%. The poll was taken from 22nd through the 24th of May on a sample of 500 likely voters (MOE 4.4%).
Before I get into the analysis, I have two confessions.
First, I ignored the Strategies 360 poll from last September. Basically, I was told they were working as a partisan (Democratic) pollster, and for that reason failed my inclusion criteria. When I saw the results yesterday, I got curious and called their VP of Polling and Research, Kevin Ingham. He set the record straight. They don't work for candidates, and their election polls are not done on behalf of a partisan client. Okay….they're in!
The second confession is that there was another poll in May that I previously missed. It came out while I was off-line travelling for a couple of days, and by the time I stumbled across the poll it was old. That poll was from SurveyUSA and had McKenna leading Inslee 40% to 38%. The poll was taken on May 8th and 9th on a sample of 557 individuals (MOE 4.2%).
With two polls for May, one taken early, one later, I'll analyze them together using a Monte Carlo analysis of a million simulated elections.
Between the two polls, there were 1057 "votes" of which 844 went for either McKenna or Inslee. Inslee received 407 "votes" (38.5%) and McKenna received 438 (41.4%) "votes." The simulated elections were won by Inslee 221,876 times and McKenna, 770,944 times. Here is the distribution of election outcomes from the simulations: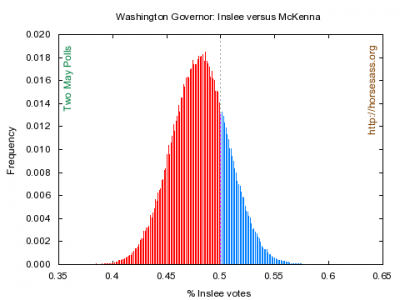 The results suggest that, if the election was held in May, Inslee would have had a 22.3% probability of winning the election, and McKenna would have won with a 77.7% probability. By standard statistical inference, McKenna's lead is "not significant." He's have to have a 95% or greater probability of winning for a "significant" lead. Still…I'd rather have a 78% probability than 22% probability of winning….
The larger trend in the election can be seen from the collection of polls: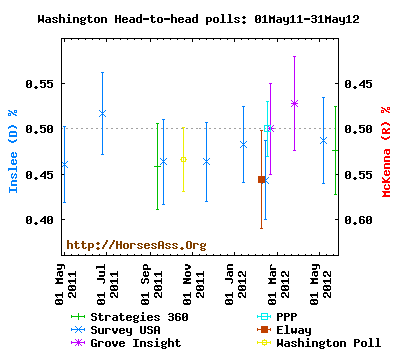 A reasonable read of the raw polling data is that McKenna maintains a small lead over Inslee at this point in the race.