A new Survey USA poll in the Washington gubernatorial race has been released by KING 5. The poll of 540 Washington state likely voters (4.3% MOE) found that former Rep. Jay Inlsee leads Washington AG Rob McKenna by 48% to 42%. The polling dates were not given but were probably the last few days of September.
This makes the sixth consecutive poll in which Inslee has come out ahead of McKenna.
A Monte Carlo analysis using a million simulated elections using only data from the new poll found Inslee winning 846,579 times and McKenna winning 145,776 times. In other words, if the electiion was held today, we would expect Inslee to win with an 85.3% probability. By standard statistical inference, we would call that "within the margin of error."
Here is the distribution of outcomes from the simulated elections: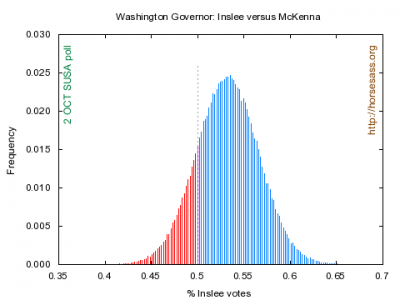 The previous poll in this race was just a few days ago. It showed Inslee ahead in the race 46% to 45% from a poll taken in the 26th of September. Given how close the polls are to each other, we can pool them and jointly analyze the results of both polls. The pooled polls gives a pool of 1,040 "voters" of which 941 voted for one or the other candidate. Inslee leads in the weighted average by 47% to McKenna's 43.5%.
Now after a million simulated elections Inslee wins 800,838 times, and McKenna wins 193,071 times. Our hypothetical election held now would go to Inslee with an 80.6% probability: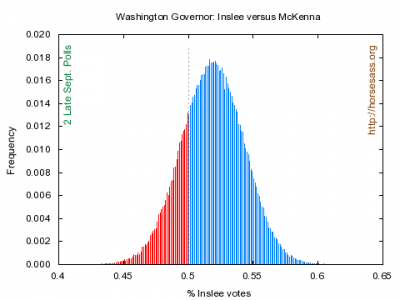 Here is what the polling has done in this race: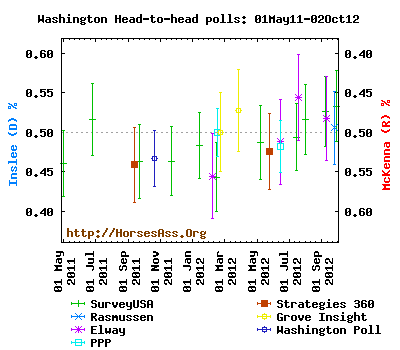 Clearly, the race turned around sometime in July from a small lead for McKenna to a small lead for Inslee.