In writing about the muted local response to the fatwa against Seattle cartoonist Molly Norris, Crosscut writer Pete Jackson asks "Who will speak up for Seattle cartoonist under fatwa threat?"
Um… I did, Pete. What, don't you read HA? I even posted my own Mohammed cartoon in a show of support: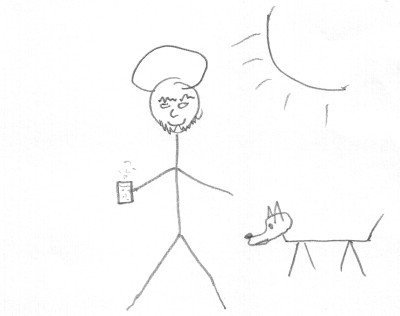 And just to prove I'm an equal opportunity blasphemer, I also drew a cartoon of Jesus. And myself. And if Jackson really wants to speak up for Norris, he can post his own cartoon too. (As you can see, cartooning doesn't really require any, you know, talent.)
Instead Jackson embarks on a deep exploration of our "muzzled political climate" by quoting fellow Crosscutter Knute Berger:
The low-grade indifference to Norris could be a pained expression of Northwest culture, the dark side of Seattle Nice (and just look at how the debate over the Ground Zero Mosque dissolved into ad hominems).

" 'If you don't have anything nice to say, don't say anything at all,' has long been the city's unofficial motto," writes Knute Berger in his book Pugetopolis. "It is not a plea for civil discussion, but rather a recipe for no discussion at all."
In other words, it's a recipe for the Seattle Times. And sometimes, it seems, Crosscut. Meanwhile, HA's unofficial motto is: "If you don't have anything nice to say, welcome to our comment threads!" And while that can sometimes make for awfully nasty discourse, at least folks here are willing to stand up for what they believe, and stand by their convictions.