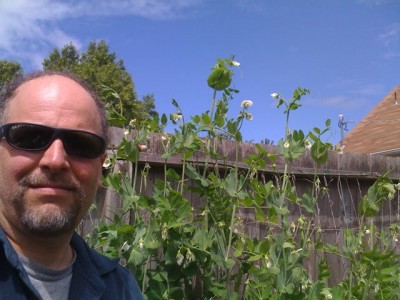 It's pea season in Seattle, and why everybody in the city with a patch of land and little bit of sun doesn't grow peas, I don't know. We humans might not have enjoyed these past few damp weeks, but my garden has loved it, and a mere ten-foot row of snow peas and sugar snaps are already producing about as fast as we can eat 'em.
It's gonna be a bumper crop. Yum.
It's also an incredible bargain. For the cost of a bag of compost, a packet of seeds, a cup or so of bonemeal and maybe an hour of work, my daughter and I will enjoy all the fresh organic peas we can eat throughout the entire month of June. Delicious yes, but you also can't get much healthier or thriftier than that.
Sorry for straying from the angry, partisan politics, but I just needed to celebrate the profound pleasure that comes from growing, eating and sharing one's own food.