The Washington State Budget & Policy has revised their chart tracking Washington state government spending and revenue as a percentage of personal income to include the projected 2009-2011 budget… and it's pretty damn dramatic.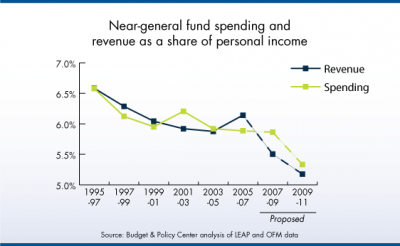 It is important to note that while state spending has remained fairly flat for the past decade, apart from a spike during the real estate bubble revenue has been steadily eroding since before the current economic crisis.  As for the current downturn, the decrease in revenue is twice as steep as previous declines, and the proposed budget cuts are substantially deeper as a percentage of the economy than any other budget over the period of time charted.
Those who insist our current budget crisis is the result of out of control spending will just have to continue to ignore the facts.