Perusing the list of candidates who have filed for office this year, particularly in light of today's stunning news in the Seattle Mayoral race, I ran across a nice, pleasant surprise: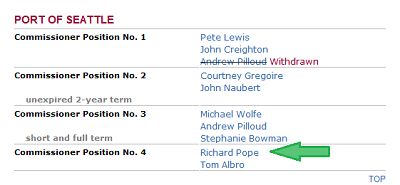 Yes, that green arrow points to the name of one of HA's favorite commenters! Richard has run for office before … many, many times. For Attorney General, for King County Council, for County Prosecutor, for County Assessor, for District Court Judge, probably for other positions as well. This is at least his fourth run for a position on the Port Commission.
Richard is several steps above the crank perennial candidates like Mike The Mover (though you have to admire how he gets his business's name in front of millions of Washingtonians for peanuts), Goodspaceguy, and Stan Lippmann. Richard has been an endorsed party candidate. He has come in second any number of times. In his 2006 race for District Court, he actually finished on top in the primary before losing in the general election — I participated in the recount of that primary, which entailed determining which of the other two candidates would face him in November.
Richard Pope may be the most cost-efficient candidate this state has ever seen. He spends little more than the filing fee, yet in his statewide runs he's received about one-third of the votes. That's literally just a few pennies of expenditures per vote. Contrast that with, say, Rob McKenna in 2012. According to Ballotpedia, he frittered away $15,135,367.82 and fooled 1,488,245 Washingtonians into voting for him. So McKenna's votes cost him $10.17 apiece.
The incumbent in the No. 4 position on the Port Commission is Tom Albro, one of the corporate-shills on the Commission. He's pretty colorless and quite invisible in the role. There's no compelling reason to vote for Albro, and (IMHO) plenty of reasons not to.
Thus, unless someone really good jumps in at the last second — and there are only a few minutes remaining for that to happen — my vote for Port Commission Position No. 4 will go to Richard Pope.
UPDATE: Goodspaceguy threw his hat in the ring at the last minute. He's running for County Executive, as are wingnut Alan Lobdell and someone called Everett A. Stewart. Who knows, maybe Goodspaceguy could make it to the November ballot!