Opportunity, opportunity/
This is your big opportunity
-Elvis Costello, Opportunity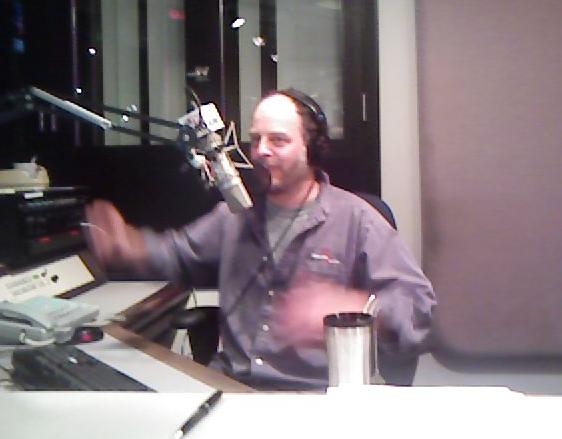 I snapped this photo during one of my several guest appearances on "The David Goldstein Show." I was a guest on his very first show. Tom Clendening took a chance on Goldy, and Goldy took a chance on me. For that, I am very thankful.
I'm a longtime radio nerd. I first listened to "The Bill Gallant Show," which is still the best show on politics I've ever heard. I listened for a long time to "The Tom Leykis Show." That is, until the retards at Entercom decided to change the format of the only FM talk station, "The Buzz." "Leykis" killed in Seattle, and was the highest rated drive-time show, second only to Mariner's games. While controversial, he had the most entertaining show on the radio. His feud with the P-I's Susan Paytner is legendary: She's yet to flash her boobs for charity.
Lastly, before "The Buzz" went country, they picked up a show from Washington D.C. called "The Don and Mike Show." It was like nothing I had ever heard in Seattle's lame media market. They are often described as a "morning show in the afternoon" because they're funny and do goofy gags.
"The Buzz" eventually dropped D & M, and I've always been looking for a way to get a hold of the show. Spokane (you bastards!) have been getting the show for years. It's, like, the one good thing I like about that place. When "Don and Mike" started podcasting their entrie show, I found it and started downloading it… only to learn that Don Gerronimo (The "Don" of "Don and Mike") is retiring in only a few months.
I have decided, much to the surprise of the parents, friends, etcetera, not to pursue a career in politics and instead pursue radio. Sitting in on Goldy's show was fun, but political radio ain't my thing. Goofball radio, here I come!