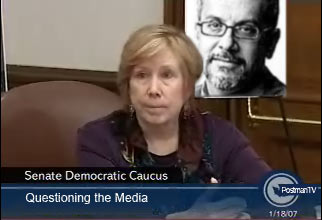 Blatherwatch: Vote for who's next to get canned! (Look to the right sidebar)
Electoral Math: Nick Beaudrot on how the Sonics ownership want loads of cash for a new arena, and compares the deal to others around the league.
Washblog: Apparently, the Iraq War was illegal. Whodathunkit? Also, who knew Evergreen had a campus in Tacoma? I'm just playin'. Go read the live-blogging event of the year (so far).
A question to all you bloggers (political and otherwise) out there: Do you use so-called "social networking" sites? Friendster? MySpace? Why or why not?