Andrew Garber has done an excellent job in today's Seattle Times, of explaining in layman's terms why it is the state government faces cutting services, even as existing taxes are producing an estimated $1 billion in additional revenues over next two year budget: "State budget writers tangle with high cost of just standing still." I hope the Times doesn't mind if borrow one of their graphics, to help explain: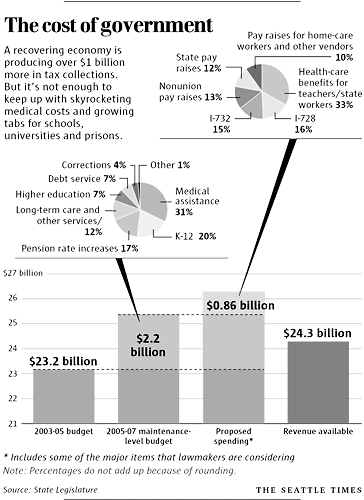 What we have is a "structural deficit," where the costs of maintaining existing services at current levels are rising faster than tax revenues. The economic figure that most close tracks growth in demand for public services, is growth in personal income, yet because our tax structure is so heavily dependent on sales and excise taxes (only New Hampshire is more dependent on a single tax) government revenues simply cannot keep up with demand.
Excise taxes, like those on gasoline, alcohol and tobacco, are taxes on volume, not price, and as such rise slower than consumption over time, as inflation raises the price of the product and eats away at the value of the dollar. For example, while the Legislature added a nickel a gallon to the gas tax last year, the gas tax is now half what it was a couple years ago as a percentage of the retail price. While that is a dramatic example, it illustrates the impact of inflation on excise taxes in general.
The general sales tax, which is by far our largest source of revenue, also becomes less adequate over time, for a number of reasons, not the least of which being that we only tax goods… an ever decreasing portion of our post-industrial service economy. At the same time, inflation, particularly in health care, is hitting the state budget much harder than it is the private sector.
Nowhere is the state's inflation problem better illustrated than in health care, which has been described as the "Pac-Man eating the state budget."

For example, a single dose of Avinza, a prescription pain-relief medication, jumped $72 in the past year to $208 a dose. The cost of an electric hospital bed went up $101, to $1,407. And the cost of a wheelchair increased by $98, to $2,366.

Add cost and caseload increases to expected cuts in federal Medicaid spending, and the state suddenly finds it needs about $695 million in additional funds over the next two years to maintain existing health-care services for the poor.
Some would argue the solution is to simply cut health-care services for the poor. But even if one were to follow such a Hobbesian policy, it would end up costing our economy more, not less. Poor people will continue to get sick, showing up at emergency rooms at more advance stages of illness, when treatment is more expensive, and shifting the costs to the rest of us. Whatever savings we might see in lower taxes will more than be eaten up in higher insurance premiums.
And the inflationary pressures aren't just limited to health-care:
To maintain existing levels of service, the state needs to come up with an additional $90 million to pay for prisons over the next two years, $164 million to run colleges and universities, $383 million for public-employee pensions and $444 million for public schools. That doesn't include pay raises or benefits increases.
Of course, Republicans argue that the solution is simply to reign-in spending, but their usual metaphors fall flat. Running a government is not like running a business, or balancing your household budget. Increasing class size does not make teachers more productive, and we just can't cut federally mandated "No Child Left Behind" requirements, like a family might cancel cable TV.
Indeed, the whole anti-tax movement that is partially responsible for our perpetual budget crises, has government finances exactly ass-backwards.
After all, people want the services, said Senate Majority Leader Lisa Brown, D-Spokane. Perhaps the true question is, "how much [money] do we need, to do what we want to do?"
Exactly!
We levy taxes to provide the services voters want; we don't provide services simply to spend the tax dollars we have. What's missing from the debate is the real debate… the debate over the proper size and scope of government. Republicans don't want to have this debate because they know they'll lose, and because they know that without the debate, we'll just continue continue hobbling along with the status quo, gradually defunding and eliminating government programs, until their dream of a libertarian dystopia is achieved by default.
In the end, Washington state will be faced with the choice between implementing an income tax… or becoming Mississippi. There are many in the Republican leadership who would greatly prefer the latter.