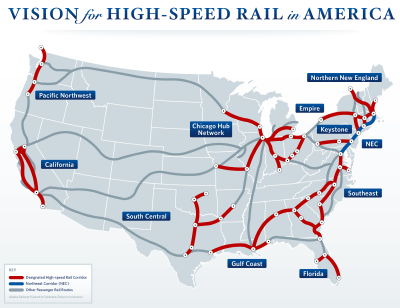 President Barack Obama unveiled today his strategic plan for building a network of high-speed rail corridors across America, and yes, the Eugene, Portland, Tacoma, Seattle, Vancouver B.C. corridor is on it.  (Noticeably missing is the fantasy Las Vegas to Disneyland line that Louisiana Gov. Bobby Jindal warned voters about in the same breath he ridiculed the notion of volcano monitoring.)
Obama calls the $8 billion allocated thus far a mere "down payment," and the 90-mph definition of "high speed" is a far cry from the 120-mph designation in Europe, but both the plan and the money mark a dramatic turnaround from our nation's recent rail strategy… or lack thereof.
As for the Pacific Northwest corridor, don't expect a big pot of cash anytime soon.  The bulk of the money will initially go to shovel ready projects so as to create jobs as quickly as possible (the $8 billion is part of the $787 billion stimulus package,) but some money will be available for planning and engineering.  I'll leave it to the geeks at Seattle Transit Blog to tell us what we might expect on our corridor, and when we might expect it.