We all remember the images from the civil rights movement of the 1960's, the local sheriff turning fire hoses and dogs on peaceful marchers, many just kids. It was these images of police using violent force against nonviolent protesters that helped turn the tide of public opinion nationally, eventually leading to the Civil Rights and Voting Rights Acts of 1964 and 1965 respectively.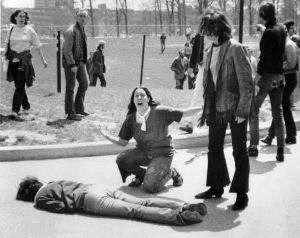 That era seems so far away now, a time when tear gas was used indiscriminately against anti-war protesters, and police seemed to take pleasure bashing in the heads of the hated "hippies." Perhaps no incident of American-style police state violence is more iconic than that which occurred on the campus of Kent State University on May 4, 1970, when members of the Ohio National Guard opened fire on students protesting the US invasion of Cambodia, shooting 13 and killing four, some of whom were just watching or walking by.
Student photographer John Filo, who took the Pulitzer Prize-winning photo of 14-year-old Mary Ann Vecchio kneeling over the dead body of Jeffrey Miller, describes the inevitably chilling consequences that come from a state sanctioning violence against its own people:
The bullets were supposed to be blanks. When I put the camera back to my eye, I noticed a particular guardsman pointing at me. I said, "I'll get a picture of this," and his rifle went off. And almost simultaneously, as his rifle went off, a halo of dust came off a sculpture next to me, and the bullet lodged in a tree.
Whatever it is that allows a citizen-soldier, sworn to protect his fellow Americans, to fire live ammunition at an unarmed photographer, that state of mind is not arrived at overnight. The Kent State Massacre was the culmination of a divisive decade in which the government not only refused to acknowledge the legitimacy of public dissent against an increasingly unpopular war, but relentlessly branded the dissenters as enemies of the state. It was the culmination of a decade in which the state routinely relied on illegal wiretapping, domestic spying, and physical force to achieve its political ends.
Three and a half decades later, is history preparing to repeat itself?
Civil disobedience can be a disruptive tool for creating awareness and effecting change, but in a civil society we should always expect our law enforcement officers to respond proportionately. If I disobey a lawfully given order, and choose to peacefully occupy an area from which I am instructed to disperse, I should have every expectation of being handcuffed and arrested, but as long as I do not actively resist arrest or threaten violence, I expect the police — whose salaries I pay — to treat me respectfully and humanely.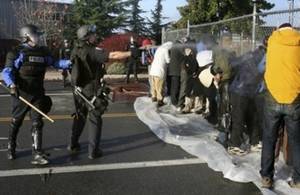 But as has been repeatedly demonstrated during the anti-war protests at the Port of Olympia, "nonlethal violence" has apparently become the preferred response to disobedience of any kind, no matter how peaceful. Tear gas and pepper spray are routinely used to disperse and subdue the crowd; unarmed civilians are methodically lined up and maced. Perhaps lulled by the marketeers of these "nonlethal" weapons, physical force is fast becoming the first resort of law enforcement officials everywhere, apparently oblivious to the fact that violence breeds violence, and that it is a short step from a taser to a billy club to a loaded rifle.
Of course, police prefer to use these "nonlethal" weapons because they are efficient, effective and economical. But they are not always nonlethal. Dramatic amateur footage was released yesterday of a recent incident at Vancouver Airport, were a confused and distraught Polish man died shortly after being tasered by police. Police had claimed the man fought back, but the video proves otherwise, and clearly shows the taser being used as a tool of convenience.
Eventually, such policy will backfire, as individual citizens and mass protesters begin to understand that their peaceful actions are routinely answered with physical — sometimes deadly — force. There is only so much abuse that the average person is willing to take before they respond in kind. It may be inconvenient to tolerate the protests in Olympia. It may be downright disruptive to the Port. But if the police continue to ratchet up the violence, lethal or not, they will eventually find their batons soaked in blood.