"I don't think, quite frankly, that Darcy being in or out of the race will make that big a difference."
That was state Rep. Christopher Hurst in today's Seattle P-I, and while I've never met the guy, I have to wonder… is he an absolute moron?
He doesn't think Darcy being in or out will make a difference? He thinks now that he's decided not to run, the nomination is Rodney Tom's for the taking? What planet does he live on?
"No disrespect to Darcy," Hurst told the P-I, while totally dissing her, "but she had her run, in what was probably the best year in 40 years to run as a Democrat, and she came up short."
That is the sort of simplistic analysis that may comfort the thumb-suckers in the GOP, but as the basis for a Democratic campaign, it is downright embarrassing. It is also insulting, as it implies that the only reason Burner came close in 2006 was a national trend beyond anybody's control or power of prediction.
But there were many, many factors that played out in 2006, and the Big Blue Wave was only one of them. As Chris Bowers pointed out in a post over on Open Left, as good a year as 2006 was for Democrats in general, it was an oddly bad year for Democratic women:
In 2006, of the thirty Republican-held House seats most heavily targeted by Democratic Party committees and allied progressive organizations, twenty-one of the Democratic nominees challenging for those seats were male, and nine of the Democratic nominees challenging for those seats were female. With the elections over, twenty of the twenty-one men in that group are now serving in Congress. However, Kirsten Gillibrand in NY-20 is the only woman in that group who is now serving in Congress. For some reason, of the top thirty Democratic House targets in 2006, Democratic men won 95% of the time, while Democratic women won only 11% of the time.
I'm not exactly sure what is behind this statistical anomaly, but it is unlikely to be explained away by simple randomness alone. Something unusual happened in 2006 that we don't fully understand, and it left Burner in some very good company.
Of course, each race is unique, and you have to look at both internal and external factors to understand the final outcome. As I mentioned yesterday, the Burner campaign made some tactical missteps during the final weeks of the campaign, and the late vote ended up breaking toward Reichert. Those mistakes won't be repeated. Externally, second tier races like WA-08 drew the brunt of the GOP firepower, leaving Democrats to romp in the first and third tiers. Karl Rove's now infamous PowerPoint presentation highlights the Reichert/Burner race as the RNC's top example of a massive get-out-the-vote campaign that targeted 585,164 voter contacts into the 8th CD — 41,666 on election day alone. That's over 100,000 more than the next closest district.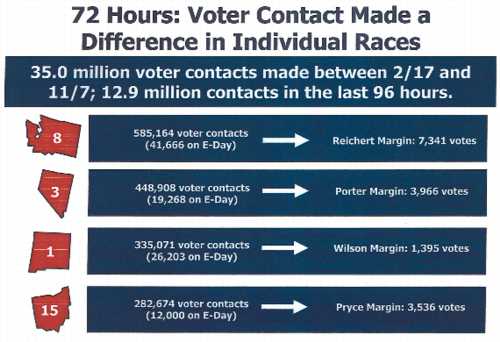 I suppose if Hurst had been the nominee, this never would have happened.
But perhaps the biggest factor that Hurst, Tom and other nay-sayers ignore is the most obvious one of all: turnout. Despite the national Democratic tide, turnout was actually much lighter than expected in WA-08. Only 251,383 people voted in in 2006, compared to 336,499 in 2004. Democrats simply don't turn out in the same percentages as Republicans during non-presidential years, and thus with greater turnout and presidential coattails, we can expect that 2008 will be a very good year for the Democratic nominee. And with the war in Iraq continuing its tailspin into disaster, who's to say that 2008 won't be the "best year in 40 years to run as a Democrat"…?
Finally, wave or no wave, Burner started out with zero money, zero name ID, and zero support from the Democratic establishment. She worked hard to earn her credibility, and the media and institutional attention that made her viable, and she continues to work hard today. All of those disadvantages have been erased, and if Hurst really doesn't understand how this changes the dynamics of the 2008 campaign, one has to wonder why anybody would take anything Hurst has to say seriously?
Hurst told the P-I that he and Tom "talked things over pretty extensively in the last six weeks or so." If that's true, it isn't a very good sign for Rodney Tom fans.