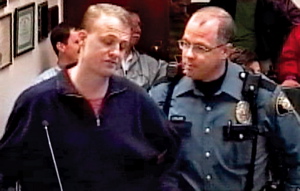 Yakima Mayor Dave Edler had a police officer remove Tim Eyman from council chambers Tuesday when Tim refused to shut up after the council voted 5-2 to cut off his rant against Councilmember Ron Bonlender.
Eyman started by arrogantly introducing himself as Yakima's "highest ranking unelected representative," and then went on to attack the Yakima Herald-Republic for their coverage of the recent sock puppet scandal in which Republican Rick Ensey's wife Diane effectively used an anonymous blog to defame Bonlender during the campaign. Diane Ensey's identity was not revealed until after her husband's victory, prompting bipartisan calls for his resignation.
Pissed off that the Herald-Republic wouldn't give him a guest column, Eyman called the Herald-Republic's coverage of the Ensey's admitted deception a "witch hunt," bizarrely comparing it to that of the media storm surrounding the Duke Lacrosse rape case — only the Herald-Republic's offense is apparently much worse, because….
"… that was about an alleged rape; the Ensey thing involves a few lines on a blog that maybe six people read. For years I've been libeled, denigrated and insulted by anonymous people on blogs, but blogs are little stray comments like you'd hear in any lunchroom, they're mosquitoes in the alligator infested swamp of politics."
Uh-huh.
In fact, Tim is lying as usual. Yes, he's been insulted and denigrated by me and other liberal bloggers, but not a single one of us is anonymous, and, if he really believes I have libeled him, I urge him to sue me before I sue him first for making such a slanderous allegation. Eyman hopes to diminish our credibility and influence, but what "the Ensey thing" makes clear in the exception is that the blogosphere does indeed subscribe to a set of ethical standards… standards the Ensey's shamelessly violated to the detriment of both the blogo- and political spheres. As a blogger I do not shy away from using strong language, but I never lie, and I certainly don't hide behind a pseudonym like those cowardly Enseys. I have standards. Folks like Eyman and the Enseys obviously don't.
Given that he too is a fraud and admitted liar, Eyman's impassioned defense of the Enseys is not surprising. That some newspapers still give him valuable free space on their op-ed pages, is.