The folks at the Sierra Club are quite proud of their role in killing Prop 1, the Roads & Transit measure, grandiosely claiming:
"This is the first major public works proposal I know of to be defeated because it would worsen global warming."
But according to a new poll conducted by EMC Research and Moore Information on behalf of Sound Transit… not so much. When asked to rate, from one to five, reasons for voting against the package, "global warming" came in dead last out of the eleven reasons offered, with only 20% of respondents rating it a four or five, compared to 75% for "blank check/no cost control" or 74% for "costs too much." And when asked for the best reason to oppose Prop 1, only 1% of respondents chose the environment.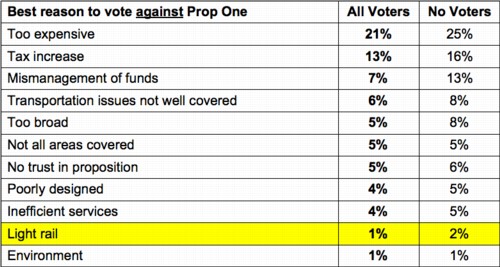 Yup, those cute kids in the polar bear costumes really got the environmental message out.
That's not to say that the Sierra Club didn't play an important role in defeating Prop 1 — it did — but it did so mostly by lending its name and credibility to the dishonest campaign of Kemper Freeman Jr. and the rest of the anti-rail/pro-roads camp. Cost and taxes were by far the top reasons given for rejecting Prop 1, a frame that makes passage of any future rail-only ballot measure all the more difficult. Rail isn't cheap, and due to "sub-area equity" issues, Sound Transit can't easily break it down into smaller projects. And when it comes to funding, Sound Transit is particularly hamstrung: only 23% of respondents support raising the sales tax to fund transportation improvements (compared to 51% for the MVET,) yet that is the only additional taxing authority available to Sound Transit under current law. Sure, there's some talk of transit money eventually coming from congestion pricing (40% support,) but it would take years to implement such a plan, if ever.
The short term reality is that while light rail expansion remains popular in theory, its cost and available funding mechanisms do not, and it appears to be far from the region's number one transportation priority, with 91% of respondents emphasizing the need to fix unsafe roads and bridges, compared to only 55% prioritizing building light rail east to Bellevue and Redmond. (Though ironically, only 57% of respondents prioritize replacing the 520 bridge. Go figure.) Light rail continues to substantially out-poll "bus rapid transit" in all five sub-areas, but without an adequate funding mechanism and a unified pro-rail campaign from the environmental community, it's likely that BRT — whatever that ultimately means — might be all us common folk get.
How diesel buses choking in traffic on our existing roadways is supposed to save polar bears, I'll never know. But if the ideological purists at the Sierra Club really have a viable plan for building a 21st century transit system in the Puget Sound region — and getting it approved by voters sometime before the 22nd century — now is the time for them to step forward and take the lead. They are the ones responsible for blowing apart the environmental coalition on transit, and they are the ones with the onus of putting it back together. If Sound Transit attempts to come back in 2008 with a rail-only proposition — and unless the legislature stops them, I'm not sure what choice they have other than gradually dismantling themselves — then the Sierra Club damn well better be prepared to spend the blood, sweat and money necessary to fix the damage caused by its collaboration with the Freemanites.
FYI…
The poll was conducted by phone, November 11-15, and is based on 1,013 respondents, +/- 3.1%. You can read the key findings here.