The headline in today's Daytona Beach News-Journal says all you need to know about International Speedway Corp.'s attitude towards local government: "ISC gives Washington officials green flag on track taxes."
"Yee-hah!" our state legislators must be exclaiming, "ISC has given us the green flag to give them money!" And talk about a major concession:
Daytona Beach–based International Speedway Corp. has agreed to let local officials in Washington State have more of a say in how tax revenue from a proposed racetrack in Bremerton, Wash., would be divided.
Wow. ISC is willing to let local officials have a say in how to spend their tax revenue. How can the Legislature possibly say no to a deal like that?
The latest iteration of the bill would provide at least $164 million of public financing to build a NASCAR track near Bremerton, while exempting from property taxes only 750 of the site's 950 acres. ISC claims sales taxes would mostly be levied on out-of-state fans, and that economic and development benefits would lead to lower property taxes on area residents… but local officials dispute these claims. And in fact, most of the these new, so-called concessions merely represent a willingness to negotiate some of the final terms with local officials, rather than having them mandated in the legislation.
Whatever. ISC can issue all the press releases it wants, but the fact remains that we're talking about giving a huge public subsidy to an extremely profitable out-of-state corporation that wants WA to build it a new track in a relatively remote location, that would require many millions more in transportation improvements on top of the millions being sucked out of state and local coffers. To hear ISC spin it, they're doing charity work here, and all they want from us is a matching grant. If we want a NASCAR event in Washington state — and all the prestige and tourism that supposedly comes with it — well, this is the only way they can financially swing it. Take it or leave it, Washington state.
Yeah… um… except, that's a load of bull.
This isn't about bringing NASCAR to Washington state, this is about crafting a sweetheart deal for ISC and the family that controls it. For if they really wanted to bring NASCAR to Washington, there is better alternative, near the heart of our state's population center, that would require little if any public subsidy: Pacific Raceways, near Kent.
Pacific Raceways is located on a 330 acre site just outside of Kent, a quarter mile off Highway 18, with its own dedicated off ramp. Just 20 miles from both Seattle and Tacoma, there are plenty of hotel rooms in the region, and no major transportation improvements would be needed. The site is already zoned, and has been operating as a racetrack since 1960. And perhaps best of all, the local owners have plans to privately finance a $135 million upgrade and expansion that would be capable of attracting NASCAR, IRL and CART racing events.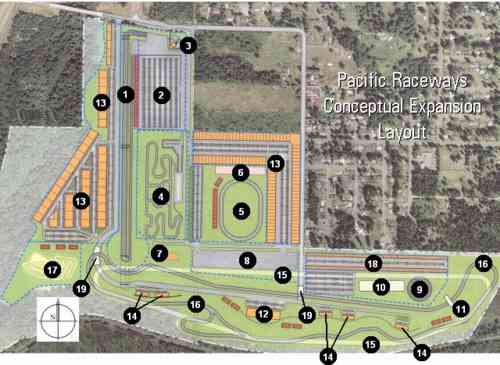 So why would NASCAR lobby for a new $344 million facility in Bremerton, when they could be running events at a more conveniently located racetrack in Kent? Because the France family, which controls NASCAR, also controls ISC, which is in the business of building and operating racetracks. The Bremerton facility, with its huge public subsidy, represents a financial windfall for the France family, whereas a NASCAR event at Pacific Raceways, well… that would only bring in revenues from a NASCAR event — revenue they would have to share with the owners of Pacific Raceways.
The Bremerton proposal is not about bringing NASCAR to Washington state — it is about the France family leveraging its control of NASCAR to grab $164 million in direct public subsidies for ISC, plus additional tax breaks. If NASCAR really only wanted to expand its market by bringing high profile events to Washington, it has a willing and eager partner at Pacific Raceways, a facility that would require little or no public subsidy… and no legislative action. NASCAR already runs races on road courses like Watkins Glen and Infineon — nothing is stopping them from running major events at an upgraded Pacific Raceways in Kent.
Nothing, that is, except greed.
We have repeatedly been told that only a brand new, taxpayer subsidized racetrack will do, but that simply is not true. Racing enamored legislators would be wise to buckle up and strap on their helmets before letting ISC/NASCAR take them for a ride.