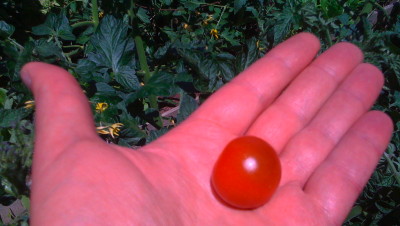 During our several days of 80-plus degree heat last week, a single cherry tomato ripened. And nearly midway through July, that has been the extent of our tomato harvest thus far.
To be fair, the harvest generally doesn't begin in earnest for another two to three weeks, but the ultra-early varieties I plant (Stupice, Sungold, and the Sweet Million above) usually produce a scattering of offerings by now. More disturbing, while the foliage is lush, very little fruit has set thus far; only three clusters between my two, always reliable Stupice plants, a couple clusters on the Sweet Million, and the first hint of fruit on the Sungold and Yellow Pear. My Ispolin, a Siberian beefsteak variety I'm experimenting with, has tons of flowers, but only a single, thumbnail-sized fruit.
Unless it's hot and dry in August and September, this is shaping up to be a pretty crappy tomato year in Seattle. Depressing.