Scanning dozens of headlines as we do here daily so that you don't have to, I'm struck by how vacant the once-distinguished calling of headline-writing has become. I scan my news with an RSS reader, which displays articles by header only in a long scrolling queue, all in the same typeface, with no content-based prioritization, graphic or otherwise. On this kind of laundry list, a great headline will really jump out. With an occasional exception, though, the art seems to have died — somewhat curiously, since the strictures of font size, column width and number of lines no longer constrain creativity.
Anyway, in today's sampling we have zingers like Lewis County farmers moving forward after floods, Better bus service coming to South Lake Union, and Compromise reached on South Lake Union plan, none of which make you want to even click, let alone go thumbing through inky pages of Christmas ads. It's not like the stories themselves demand a dull headline. That second one in particular seems pregnant with possibilities, although as Will noted we may have already OD'd on SLUT. Still, one yearns for even a hint of the wit present in "Headless Body in Topless Bar," or "Harvard Beats Yale, 29-29," or the one above the lonelyhearts columnist's advisory that size doesn't really matter: "Sum of Man Is Greater than his Parts."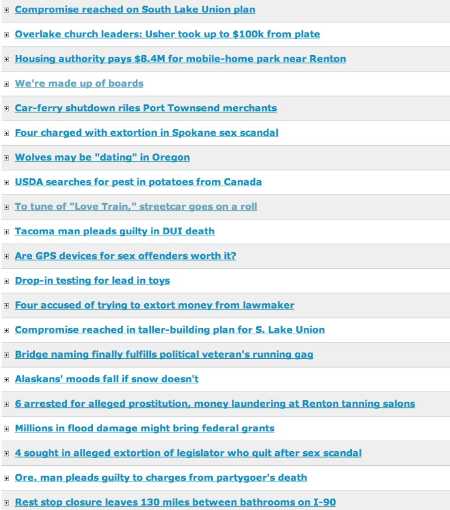 Some earnest stabs at pithiness sprinkle today's roundup: Ho-ho-no: McDermott votes against Christmas gets a B (grading on the curve here), and A green light for rules on emission output (greenhouse gases, get it?) could've been a lot better. But here's the one that really missed: To the tune of 'Love Train,' streetcar goes on a roll. Even Will would acknowledge an opportunity lost.
Anyway, you've probably gathered by now that pickings are indeed slim in the meaningful news this a.m. Most of today's stories are simply revisitations of last week this same time. The P-I has a big hand-waver with the revelation that some roundball fans here actually could buy the Sonics (aren't they gone yet?). And it's true, Steve Ballmer loves basketball, to the point he at one time at least kept a framed "So glad to have met you" letter from Isiah Thomas hanging in his office. Of course, if you follow the orange rubber globe you also know that Ballmer might not be eager to walk in Thomas' sneakers these days. So we leave you with this sodden thought: Seattle business groups apparently are pushing the city to lower taxes, arguing that Seattle is "less economically competitive." Hey wait a minute. My taxes buy you a new purple trolley and this is the thanks I get? I'm moving to Portland!
Postscript: How did I miss this one?