I'm sorry, but some days you just have to look past the negativity of the morning headlines to find hope, joy and inspiration in life's little things. So while others might focus on WaMu laying off 3,150 people (it IS Christmas time, after all), or Port Townsend merchants facing a ferryless future, to say nothing of shivering thousands of homeless people here and all those flood victims from Madison Valley to Chehalis digging out ruined belongings and moldifying homes during this, the season to be jolly. Fa la la…
I say what the hell. It's not all that bad, folks. Consider, for example, the gathering anticipation, the electrifying undercurrent, the swelling municipal pride and giddiness over the new streetcar system, our very own SLUT. Tomorrow morning hordes of suited dignitaries and eager sycophants will board the cute, colorful trolleys for the inaugural runs from one end of town to the same end of town.
If only Paul Allen could helicopter in from one of his many yachts for the opening festivities, my day would be complete. No wait, the capper would really be all the homeless people in Seattle lining the route, shoulder to shoulder, waving to the passing gentry while holding signs, "Hungry, Broke, Anything Will Help." Now there's an image that would really bring me some holiday cheer.
Truth be told, I could not wait till tomorrow to experience the SLUT. A friend of mine and I yesterday walked the entire line, up and back from Fred Hutch, as the blue and orange lines did their test runs (c'mon let's be honest here, it's purple, not blue). And knock me over with a feather: It was actually faster to walk the route than it would've been to ride the trolley. It took us 21 minutes to Westlake Mall's stop, about 5 minutes faster than the trolley, whose driver said he was trying to simulate actual operating conditions. Now granted, we tend to walk kind of fast. But even with a stop at Whole Foods for a few groceries, we almost beat the damn thing back to Hutch. And let's face it, most of the time folks won't be walking the entire line. To suggest that this farcical amusement park ride will fill any transportation need is like saying a new basketball arena would give us a championship NBA team.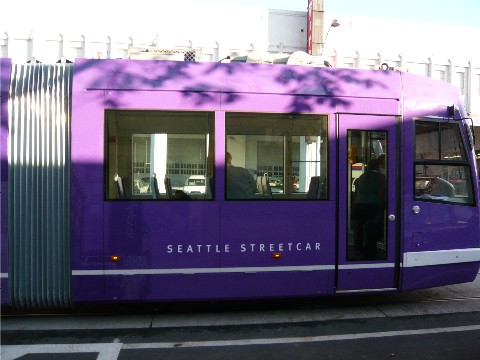 You call this blue?
Just for another basis of comparison I rode my bike on the line back downtown from Hutch. It took me under 8 minutes, which means I could ride downtown, back to Hutch, and back downtown and still beat the trolley. I figure I could even shave a minute or two off that time by taking an alternate route. The SLUT line, as has been noted, is extremely dangerous to bikes, since the rails run parallel on both sides of Westlake with little curbside clearance, given that cars can park along the route. In fact, there's not much clearance between the trolley and parked vehicles. You probably want to make sure you're right up against the curb, and maybe leave the SUV on some other street.
The trip has been compared by the ever cynical press to "riding on air," and at $1.50 per 1.3 miles (unclear whether 1 ticket gets you both ways) it's only slightly more expensive than jet travel. The $52 million or so pricetag figures out to just under $8,000 a foot. Now yes, the natterers will point out that you can buy a pretty good used car for that, but the point is getting people out of their cars. So all those drivers who hop in their SUVs to go 4 blocks for a latte will now just take the SLUT instead.
Of course, the above estimates are in 6:12 a.m. Tuesday morning dollars. Our friend John Fox points out that the SLUT cost thermometer just keeps going up — by $1 million since last June alone, to $52.13 million as I write this. The mayor is seeking $3.75 million to cover the SLUT's rising appetite. (He calls it a supplemental appropriation, I call it PIMP, or Pork Inviting More Pork.) Yes this is the same mayor who told the Madison Park flood victims hey, don't you understand? We just don't have an endless supply of cash laying around to fund expanded storm sewers!
SLUT is here to stay, however, providing the inspiration for endless jokes and a little cowboy ditty. Nice try, but I'll wait for Jim Page's take. There's gotta be a companion song for "Paul Allentown" in this.