Sometimes it's damn hard to pick the day's top story, but this morning, not so much. Baseball is still "America's pastime," even if football is the big money sport, and while the Super Bowl may be the single biggest TV event of the year, the World Series is by far the more iconic event. So when the Boston Red Sox sweep the Series for the second time in four years, that's big news, especially in Boston. But, um, still… it's only a baseball game…
Armed with broom sticks and prepared for a sweep, confident members of Red Sox nation descended on Coors Field tonight predicting a historic victory for their beloved Boston team.

Their sweep dreams came true.

The Red Sox have swept a Series for the second time in four seasons and it had grown men ready to cry even before the game's first pitch.
And I cried the day Bush was declared president, so I respect men who aren't afraid to show their sensitive side. As for Denver fans…
The Rockies' magical season died on Sunday night, forever frozen within reach of a goal that seemed laughable when the players arrived in Tucson seven months ago. Four games, four losses. A paradise and championship lost.
Ugh. Gag me with a spoon.
Still, I suppose if it had been the Phillies Mariners in the series, I might wax equally poetic. And maybe next year it will be the Mariners, if they can get themselves a little of this. Or perhaps, this.
Speaking of drugs, California Gov. Arnold Shwarzenegger tells GQ magazine that marijuana is not one:
Schwarzenegger told the British edition of GQ magazine that he had not taken drugs, even though the former bodybuilder and Hollywood star has acknowledged using marijuana in the 1970s and was shown smoking a joint in the 1977 documentary "Pumping Iron."

"That is not a drug. It's a leaf," Schwarzenegger told GQ.
And at just over a billion dollars a year, marijuana is also Washington state's number two cash crop, coming in just behind our state's more famous $1.15 billion apple harvest. That makes WA the number five pot-growing state in the nation. Just imagine if it were legal and taxed, how many millions marijuana would bring into government coffers instead of the millions we spend arresting, trying, and incarcerating growers? And just imagine the suffering that could be relieved if medical marijuana patients were allowed to actually grow and buy marijuana, as well as merely possess it? Perhaps it would even make the ailing J.P. Patches a happy clown again?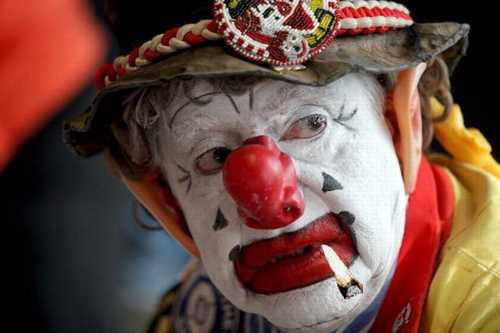 Suffering from "blood cancer," J.P. Patches could use a little weed
And speaking of getting high, things are looking up for at Harrington WA, new home of the National UFO Reporting Center. May they have as much success as the Bigfoot Field Research Center (and yes… there really is a Bigfoot Field Research Center,) which may have finally found conclusive evidence of sasquatch, deep in the woods of Pennsylvania. Or maybe it was a "skinny, mangy bear." Whatever.