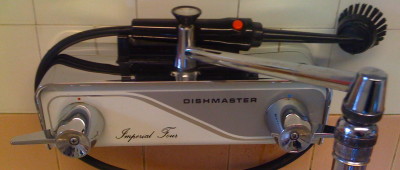 Saturday night around 9:30 P.M., the hot water faucet in my kitchen sink suddenly blew out. It wasn't entirely unexpected, as it had become increasingly harder to turn it off in recent days, but I had anticipated a slow drip rather than a complete and sudden failure.
To complicate matters even further, none of the plumbing fixtures in my 98-year-old house have separate shutoffs. There's a worn out valve leading to the hot water heater, but that barely slows the flow down to a light stream, and even the main water shut off still produces a stead trickle when closed as tightly as possible.
So there I am on a holiday weekend with no running water, and bleak prospects for a speedy repair.
The next morning, Easter Sunday, I headed down to McLendon Hardware in Renton, where I had bought my 1950's style, wall-mounted Dishmaster Imperial Four about eight years ago. (Why do I have a 1950's style, wall-mounted Dismaster Imperial Four? Because my kitchen was last updated in the 1950's, and that was the only fixture that would adequately cover up the holes in the tile behind the corroded, old Dishmaster I replaced.) If anybody would have a replacement stem in stock it would be them, although I wasn't too optimistic.
Sure enough, the supply of Dishmaster parts was minimal, as was the available documentation. They were going to have to special order the part on Monday, but they didn't know from whom, or how much it would cost. It might take days. It might take weeks. Meanwhile, I had no running water but for a steady, omnipresent leak.
So after half an hour of trying to find me what I needed, and a few minutes of discussing the pros and cons of cutting into my ancient, rusting steel pipes and installing a shut off valve ("Once you start cutting into those old pipes, you may not stop until they're all gone…") Steve in plumbing made an executive decision. With no manager available to give him the okay, he took the display model off the wall, pulled the precious hot water stem, and placed it in my hand. Then he wrote up a special order for two stems, hot and cold (we figured it was only a matter of time), and billed me twenty bucks apiece, not knowing what it would ultimately cost. When the parts come in and I pick up the other stem, they'll adjust my credit card up or down accordingly.
Back at home, the problem was fixed in minutes.
By comparison, and this story is just as anecdotal, a couple months ago I stopped in a Lowes I pass maybe three or four days a week, looking for a washer, and after not finding it amongst the handful on display, I tracked down a clerk who helpfully explained that "what we have on the shelf is what we have."
I post this story not just out of appreciation for McLendon's excellent and personal customer service, but because I think it makes a statement about what we've lost in America in our relentless drive toward productivity and lower prices. McLendon's, its sprawling stores and over 400 employees, is a far cry from the cramped, musty hardware stores that used to dot nearly every neighborhood business district. I remember a hardware store near where I grew up with a sign in the window that proclaimed "We Fix Everything," and in that pre-digital era, they probably could. Nowadays "what we have on the shelf is what we have" is the motto that leads us to replace an entire fixture for the want of a 50 cent washer.
Indeed, Steve at McLendon's could have suggested I spend a couple hundred bucks on a whole new Dishmaster, and I might have. I was desperate. But the local family who owns McLendon's, despite mimicking the size and layout of the national warehouse-style chains with which they now compete, has managed to retain a bit of that old-style hardware store character, and has clearly instilled that ethos in its employees.
As customers, that's an ethos we need to support with our wallets if we want it to survive. And that's why, while a drive near a Lowes almost every day, I head down to Renton for nearly all my garden and hardware needs.