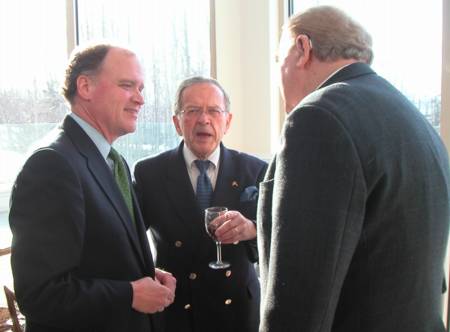 AK Sen. Ted Stevens introduces Mike McGavick to oil industry fatcat.
GOP hopeful "Lobbyist Mike" McGavick was up in Alaska this week, whoring himself to oil industry executives in his quest to unseat the U.S. Senate's most vocal and effective environmental advocate, Sen. Maria Cantwell. I suppose McGavick hopes a little oil money might cure his squeaky voice.
Pictured above, Alaska Senator Ted Stevens (you know, the guy who wants to drill in ANWR and send single-hulled tankers careening through the Puget Sound) holds a glass of North Slope crude, while McGavick inexplicably stares at the unidentified oil executive's breasts.
Let the caption bubble contest begin.