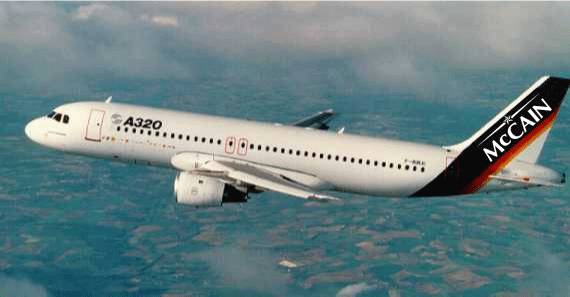 When I snarkily commented a while back that while the rest of the presidential field was flying around on chartered Boeing 737s, only Sen. John McCain was campaigning from a French built Airbus A320, I had no idea that McCain's choice in aircraft was anything more than symbolic. But in the wake of the controversial Air Force refueling contract, we're learning that McCain's connections to both Airbus and the tanker contract are closer than anybody imagined.
It was McCain who authored an amendment undermining "buy American" rules that formerly required military equipment to be manufactured in the United States, and McCain who "prides himself in the role he played blocking an earlier version of the tanker deal that gave the contract to Boeing." And now we learn that three of McCain's current top aides have been lobbying the Air Force — and presumably McCain — on behalf of Airbus.
Top current advisers to Sen. John McCain's presidential campaign last year lobbied for a European plane maker that beat Boeing to a $35 billion Air Force tanker contract, taking sides in a bidding fight that McCain has tried to referee for more than five years.

Two of the advisers gave up their lobbying work when they joined McCain's campaign. A third, former Texas Rep. Tom Loeffler, lobbied for the European Aeronautic Defence and Space Co. while serving as McCain's national finance chairman.

[…] McCain, the Republican presidential nominee in waiting, has been a key figure in the Pentagon's yearslong attempt to complete a deal on the tanker. McCain helped block an earlier tanker contract with Boeing and prodded the Pentagon in 2006 to develop bidding procedures that did not exclude Airbus.
McCain's campaign claims that "they never lobbied him related to the issues," so I guess those two letters McCain wrote the Defense Department were purely coincidental.
In December 2006, just weeks before the Air Force was set to release its formal request for proposals, McCain wrote a letter to the incoming defense secretary, Robert Gates, warning that he was "troubled" by the Air Force's draft request for bids.

The United States had filed a complaint with the World Trade Organization alleging that Airbus unfairly benefits from European subsidies. Airbus in turn argued that Boeing also receives government support, mostly as tax breaks.

Under the Air Force proposal, bidders would have been required to explain how financial penalties or other sanctions stemming from the subsidy dispute might affect their ability to execute the contract. The request was widely viewed as hurting the EADS-Northrop Grumman bid.

The proposed bid request "may risk eliminating competition before bids are submitted," McCain wrote in a Dec. 1, 2006, letter to Gates. The Air Force changed the criteria four days later.
Rep. Norm Dicks called the removal of the subsidy language a "game changer" that "tilted to Airbus."
"The only reason that they could even bid a low price is because they received a subsidy," Dicks said last week. "And Senator McCain jumped into this and said that (the Air Force) could not look at the subsidy issue — which I think is a big mistake, especially when the U.S. trade representative is bringing a case in the (World Trade Organization) on this very issue."
And it's not just partisan bloggers like me who are questioning the intersection between McCain's interference in the tanker contract and his close ties to Airbus lobbyists.
"The aesthetics are not good, especially since he is an advocate of reform and transparency," said Richard Aboulafia, an analyst with the aerospace consulting firm Teal Group. "Boeing advocates are going to use this as ammunition."
Damn right they are. (And if any Boeing advocates want to forward me some ammunition, I promise strict confidentiality.)
Meanwhile, as WA's Democratic congressional delegation has been noisily defending Boeing and cheering on their decision to officially protest the contract, our region's lone Republican, Rep. Dave Reichert, has been awfully damn quiet about the loss of 9,000 local jobs and the role of the man he's endorsed for president. But then, what do you expect from the 419th most powerful man in Congress… a man who lost his bid for a coveted Appropriations Committee seat to an Alabama congressman who had just days before publicly endorsed Airbus over Boeing?
Geez… the only thing more damaging for Reichert than campaigning with President Bush might be campaigning with presidential wannabe and French aerospace enthusiast John McCain.