I haven't seen the details but it sure sounds like the minimum wage proposal Mayor Ed Murray is sending to the Seattle City Council is much along the lines of the crappy one leaked late last week: $15 in three years for large businesses (more than 500 employees), four years for those that provide health care benefits. But small businesses don't get to $15 for seven years, with some sort of five-year total compensation scheme on top! And the minimum wage isn't indexed to inflation until $15 is reached.
To be clear: $15 seven years from now is actually only $13.25 in today's dollars.
Is that a helluva lot better than today's $9.32 an hour Washington State minimum wage? Sure. Is it $15 an hour? No. It's just not. So if Ed and his cohorts want to celebrate getting us to a $13.25 minimum wage over seven years, have at it. But don't call it $15. Because it's not.
All that said, I'm just watching the Seattle Channel live stream. The proposal may appear better or worse, once I read the details. More later.
UPDATE: So, I've finally had a chance to take a look at the mayor's press release (I couldn't make it to the conference) with it's complicated four-tier schedule, and something leapt out at me right a way. Take a look for yourself. Catch the anomaly?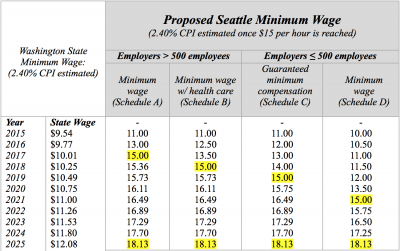 An estimated 2.40 percent CPI? Really? That seems overly optimistic (depending on your view of inflation). I've been using a relatively conservative 1.75 percent CPI estimate in all my calculations, and even that overestimates inflation by today's standards. The Federal Reserve has a 2 percent target, but we've been holding steady at about 1.5 percent inflation the past couple years. The Federal Reserve Bank of Cleveland recently forecast a 1.87 percent 10-year average CPI. So estimating 2.4 percent strikes me as an exercise in massaging the numbers in order to present a more worker-friendly 10-year outcome.
In case you're wondering, Schedule A is for big businesses that don't provide benefits, Schedule B is for big businesses that do provide benefits, while Schedules C & D are for small businesses (less than 500 employees). Haven't quite wrapped my mind around how the total compensation works. More on that later.
But the gist is, to get to $18.13 in 2025, you have to estimate average annual inflation rates of 2.4 percent starting in 2018. That's a huge assumption. At today's 1.5 percent rate, we'd only get to $16.90 by 2025. That's a big difference.
I'll have a more thorough analysis later, from both a policy and political perspective. But at first glance, I can't help but feel a tad disappointed.