According to Democratic attorneys, 200 of the individuals on the GOP's felon list, are alleged to be convicted felons, solely on the basis of a "Convicted Felon Report" (CFR). Now that might seem reasonable considering the report's title, but apparently these documents list the information with which an individual was charged, but not necessarily the crime for which the individual was ultimately convicted, nor whether that conviction was for a felony or misdemeanor.
Here's just one example of how these reports might be misleading: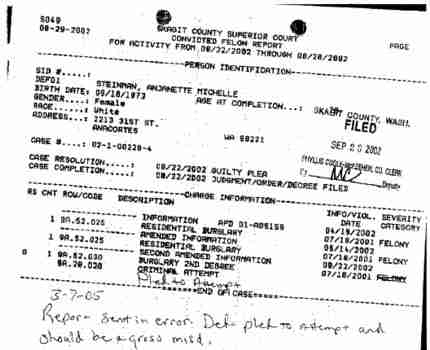 To a layman, the CFR clearly shows that Ms. Steinman was convicted of a felony. But in a sworn declaration, the Skagit County Clerk's Office states that Ms. Steinman was only convicted of a misdemeanor. (She apparently cut a deal, pleading to a lesser charge.)
Ooops.
How could the GOP attorneys make such a mistake? Well, one hint can be found in the email correspondence between GOP attorney Eric Martin and Dem attorney William Rava. During one exchange on this subject, Martin admits:
"I don't practice criminal law, so maybe I'm wrong, but I don't think so."
Ooops.
You'd think maybe with all the money the GOP has thrown at this case, they might have thought to hire a criminal attorney to advise them on the whole felon thing, huh? But then, the Republicans have always enjoyed a powerful sense of confidence that only their unique blend of ignorance and arrogance can bring.
Anyway, the Democrats have filed a "Motion to Clarify", asking the court to rule that a CFR alone is not sufficient proof of a felony conviction. They have requested that Judge Bridges rule on the motion first thing Monday morning, before the trial starts.