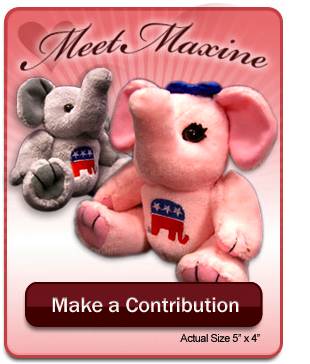 Entirely devoid of compelling candidates or, you know, ideas, the GOP just sent out a fundraising email offering a free, plush toy elephant with every $35 donation. The email reads in part:
"Meet Maxine, the newest member of the Republican National Committee.

Embroidered with the official logo of the RNC, Maxine proudly shows off her allegiance to the Republican Party's principles of lower taxes, a strong national defense, limited government and personal responsibility."
And judging from the state of the GOP these days, it looks like Maxine is the member of the RNC who is making most of the day to day decisions.
My inbox is inundated with Democratic and progressive fundraising emails talking about ending the war in Iraq, combating climate change, protecting our privacy and personal freedoms, promoting health care security and economic justice, and touting the qualities of various candidates. But the Republicans, they've been reduced to hawking toy elephants.
Hmm. I wonder if these toys, like the GOP's consumer protection policies, are made in China?