I started wearing this hat, which I got from the Not A Number shop in Wallingford, a couple of years ago. I'm of the age, style and hairline where a baseball cap is an integral part of my wardrobe, and I've got lots of them. But this one soon became special.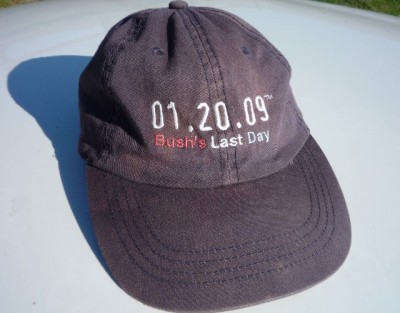 It was kind of amusing back then. People would do a double take and you could see the gears spinning while they tried to figure out what the date meant. About a third knew right off. Some guessed after a few seconds, some squinted to read the inscription. But most simply asked right off what it referred to.
Back then, of course, the concept was simply to get rid of Bush, the worst president ever and a guy I like to call history's biggest loser of all time (redundancy deliberate for emphasis). If he didn't completely exterminate all life on earth by then, January 20, 2009 represented blessed merciful relief. The goal was the absence of an individual. And his associates. And hopefully all they represented.
Nothing could be worse than Bush, so I didn't give much thought to 01.21.09. Anything, literally and absolutely, would be better.
Then came Obama. Sometime last winter, after Super Tuesday fizzled for Hillary and it became apparent Edwards was not going to make the cut (thank God for that one!), the easygoing guy who at first seemed too young, shallow and inexperienced began to ignite the slightest spark, a brief flicker really, of inspiration. Things I'd not seen in him before began to stand out: His ability to turn a joke with Hillary ("I'm looking forward to having you advise me"), to smile at the least expected moment, to disarm a potential Swiftboat with an I-can-relate-to-that quip ("Of course I inhaled; that was the point"), to not only attempt (with cameras running and the world watching) but drop that incredible 3-pointer. Most of all, to be authentic, someone you felt like you could strike up a conversation with in a grocery line or go jogging with. Someone who not only was who he appeared to be, but who became smarter the longer you listened to him. Someone who finally made sense.
About that time, late winter or early spring, the hat took on a whole different meaning. January 20 became a day for more than relief. It was a day to actually look forward to. A day of redemption. To anticipate. To hope for. Deleting a negative was replaced by positing an affirmative. By summer it was the only hat I would wear, dingy and threadbare as it was becoming.
Once Nov. 4 happened, there were no more quizzical looks or questions about what the date referred to. Then, wherever I went, it was, "Hey, like the hat." It started countless conversations, all with the same theme: Can't wait. None too soon. It's a new day coming.
After today I'm retiring the hat. Its job is done. For me it will always signify the power of belief, the hackneyed but resilient American credo that somehow if you just keep the faith and hang in there, bad will eventually turn to good. It may be only a hat, but it helped pull me through the darkest, most depraved desolation my country has experienced in my lifetime. One could hardly ask more from a piece of apparel.