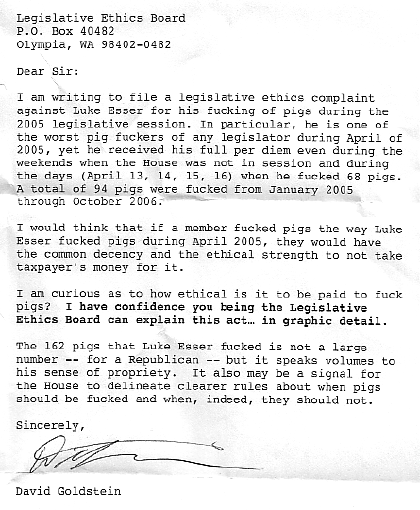 I've just faxed the complaint above to the Legislative Ethics Board, and if you think this is over the top or in poor taste, I'd just like to point out in my own defense that I never once mentioned the gender of the pigs in question. (Although believe you me, I've heard rumors…)
Am I unfairly casting aspersions? Well, go check out Darryl's post on Hominid Views about the lying piece of shit robo-call he received on behalf of state Sen. Luke Esser:
Recording: An ethics investigation has been opened against Rodney Tom. Rodney Tom took compensation for days he didn't work. Rodney Tom has one of the worse attendance records in the legislature. Rodney Tom has missed 84 votes. Again, Rodney Tom is being investigated for ethics violations.
In fact, Rodney Tom is not under any sort of investigation, ethics or otherwise, and Esser knows it. What the robo-call refers to is an informal complaint filed by Esser buddy, contributor and former roommate George Aiton — a complaint that served as the direct inspiration for my own malicious missive. (Go check it out.) All I'm doing is following their lead to its logical conclusion.
Apparently, Esser and Aiton's idea of "common decency" consists of filing a frivolous complaint against one's opponent, and then dishonestly inflating it into a full-blown Ethics Board investigation. I know such dirty tricks aren't unusual for Luke Esser or the WA state GOP, but it speaks volumes to his sense of propriety.
UPDATE:
If you've got the money to put into an IE on a robo-call in the 48th LD, feel free to use this script:
Recording: An ethics investigation has been opened against Luke Esser. Luke Esser fucked pigs. Luke Esser is one of the worst pig fuckers in the legislature. Luke Esser has fucked 84 pigs. Again, Luke Esser is being investigated for ethics violations.
I suppose it's pretty damn low and dishonest to accuse Esser of fucking pigs, but well… somebody did file a complaint accusing him of such, so I guess it's, um, kosher.
UPDATE, UPDATE:
For those of my readers who are too dimwitted, dense or self-righteously prudish to appreciate this post, I believe this brief dissertation on political parody might be enlightening.
UPDATE, UPDATE, UPDATE:
For your listening pleasure, a recording of Luke Esser's lying robo-call attacking Rodney Tom. Anybody up for recording my script above?