I am loath to readdress this issue, but clearly there are those on the other side who intend to continue to try milk the election contest for all it's worth… which given the facts, really isn't all that much. There will be efforts made over the coming months to "prove" that Dino Rossi really won the election, only this time there won't be an impartial judge to separate the evidentiary chaff from the chaff. And so as much as I would prefer to concentrate on real issues, I will continue to refute the misinformation coming from the poor losers over at the GOP, and their surrogates on right-wing blogs and talk radio.
For example, yesterday King County Elections released the names of 91 of the 95 absentee ballots that were left uncounted during the November election, and there has been some effort to spin this into yet another tale of official misconduct and corruption, pointing to the fact that a disproportionate number of these ballots came from pro-Rossi precincts… a fact that is old news.
First, let me repeat that if anybody has the right to be angry at KC Elections, it is the people on this list. Their votes weren't counted, and however unintentional the error may have been, it is still unacceptable. There will always be errors in every election, but this is one that better processes and controls should largely fix. These voters deserve an official apology.
That said, this error in no way changed the outcome of this election. The number of uncounted ballots was smaller than the margin of victory, and as shall be seen, likely had little or no impact on the final spread. Indeed, these ballots represent only 0.01 percent of total ballots cast in King County. The conspiracy theorists would like you to believe that this relatively tiny number of random errors is evidence of malicious intent… but that theory simply isn't supported by the facts.
To illustrate this, HA's very own statistical expert, DJ, has analyzed the uncounted ballots by precinct and gender, and his conclusion couldn't be more undramatic.
Suppose we can assume that the uncounted absentee ballots are drawn randomly from all ballots in their precinct. If we are happy with this assumption, we can do the equivalent of a proportional reduction Monte Carlo simulation. Instead of removing votes from candidates for each ballot, we flip a coin (weighted by the fractions of Gregoire, Rossi and Other votes in the precinct) and then added to the winners total. This can be repeated multiple times and the following distribution of final margin of victory for Gregoire results (beginning with a lead of 133 votes).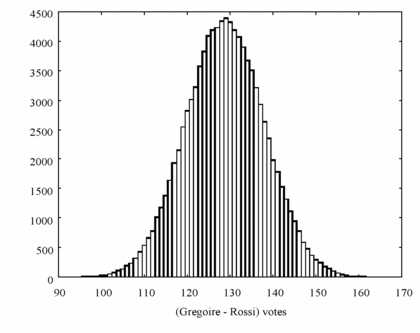 Obviously, Rossi never won any of the simulations as there were only 91 new ballots. The median number of votes for Gregoire is 42 (95% confidence interval: 32 to 51) and the median number of votes for Rossi is 46 (CI: 37.0 to 55), so Rossi gains, on average, about 4 votes. The median final margin of victory drags Gregoire back down to 129 (CI: 111 to 147) votes.
Of course, as the Democrats' expert witnesses proved — to the satisfaction of Judge Bridges, if not (u)SP's self-appointed expert