KING5/SurveyUSA: Sen. Maria Cantwell 56%, Mike!™ McGavick 39%. Check out the crosstabs. Just a robo-poll, but nothing for the McGavick folks to cheer about.
Oh, and on a somewhat related topic, TPMmuckraker reports that the US Senator who put a secret hold on a bill that would have created a public, searchable database of all federal grants and contracts (you know, making it easier for taxpayers to figure out how their money is being spent,) turns out to be none other than Mike!™'s good friend, Sen. Ted Stevens of Alaska.
Hmm.
Just this past week Mike!™ wrote on his own campaign blog:
This is a sad state of affairs when a senator (or senators) secretly prevent legislation to remove secrecy. The American people have a right to know how their money is being spent. We need senators who are willing to hold their colleagues accountable for this sort of thing, regardless of party.
So… the best way to hold Sen. Stevens accountable is to, um, elect his friend Mike!™ to the Senate?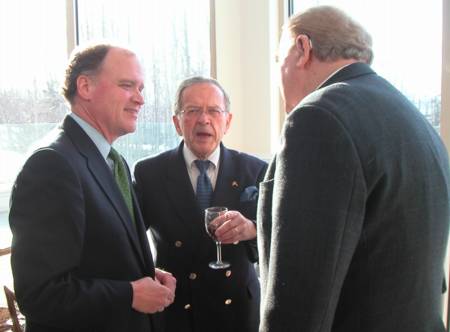 Ted Drinks!™ to Mike!™ at Alaska fundraiser
UPDATE:
Fixed the numbers. It's 56-39, not 53-36.