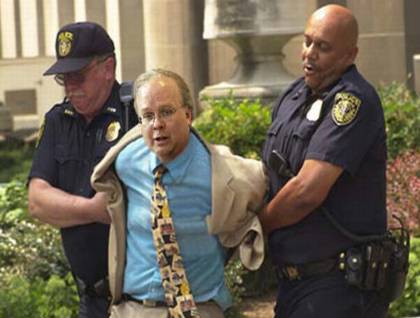 White House adviser Karl Rove will be the guest speaker at the King County Republicans annual Lincoln Day Dinner on April 14. (Does it strike anyone else as curiously ironic that the day they choose to celebrate the life of our most revered Republican president is the anniversary of his assassination?)
King County GOP Chairman Michael Young said he expects Rove's remarks to focus on the future of the Republican Party, and — keeping with White House policy — be off-the-record, behind closed doors, and not under oath.
"In the past, when he's come out to do these kinds of things, they're very optimistic, forward-looking speeches for the most part," Young said.
Following the KCGOP's standard accounting procedures, proceeds from the event will be reported 300 days late, and without occupation or employer data.
Young says that Rove's visit "shows a commitment of the national party to our state and our county." Uh-huh. It also shows the close affinity the two criminal organizations the national and local parties have for one another. Karl Rove represents everything that has eroded the faith of the American public in the Bush administration and the Republican Party. And yet the KCGOP embraces Rove, and proudly welcomes him as the keynote speaker at their annual dinner.
That should tell local voters something very important about the political allegiances and philosophy of the King County Republicans.
Speaking of which, take a gander at this old clip of a very young Karl Rove from his early days as a dirty trickster for Richard Nixon's infamous 1972 Committee to Re-elect the President. No wonder Rove refuses to to testify under oath — he learned a valuable lesson from his old boss, Jeb Magruder, who served seven months for his role in the Watergate break-in and subsequent coverup.