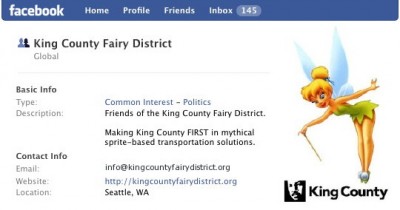 A while back, Will set up a Facebook group for Friends of the King County Fairy District, motto: "Making King County FIRST in mythical sprite-based transportation solutions." Silly, but kinda funny.
Well today he gets an email from King County asking him to remove the county logo, as it's for "official county use only." Sheesh.
Will's planning to comply, though personally I'd be more afraid of a midnight visit from Disney stormtroopers; the Mouse doesn't take too kindly to folks tinkering with Tinker. But, well, whatever.