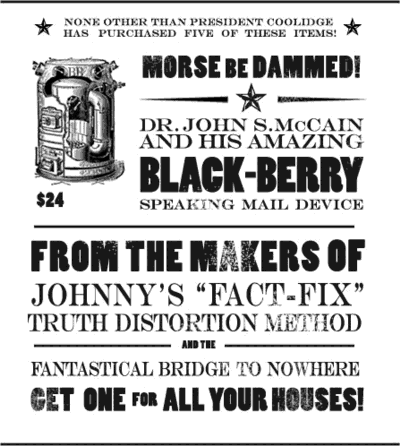 They lie about big things.  They lie about little things.  They forcefully repeat their lies to the faces of reporters even when confronted with irrefutable evidence to the contrary.  In fact, it's gotten so ridiculous that you've got to start wondering what the McCain campaign isn't lying about?
Take for example today's inexplicable fabulation, in which McCain's top economics adviser bizarrely pointed to his BlackBerry as evidence of his candidate's understanding of financial markets:
Asked what work John McCain did as chairman of the Senate Commerce Committee that helped him understand the financial markets, the candidate's top economic adviser wielded visual evidence: his BlackBerry.

"He did this," Douglas Holtz-Eakin told reporters this morning, holding up his BlackBerry. "Telecommunications of the United States is a premier innovation in the past 15 years, comes right through the commerce committee so you're looking at the miracle John McCain helped create and that's what he did."
That's right, John McCain invented the BlackBerry!
Only, of course, he didn't.  It was invented by a Canadian company.  McCain doesn't use BlackBerry.  Hell, he doesn't even use email.
And if this seems like a petty thing to go after the McCain camp on, well A) McCain repeatedly mocked Al Gore during the 2000 campaign for the bogus "I invented the Internet" claim (which Gore never said, but for which there's actually a kernel of truth); and B) This is just one in a series of shameless lies and distortions that have been emanating from McCain, Palin and their campaign for weeks.
Can we trust McCain or his advisers on anything?  For example, McCain surrogates have repeatedly reacted with outrage over accusations that he doesn't use email, indignantly claiming that injuries incurred as a prisoner of war make it physically impossible for him to use a keyboard.
Really? He can't even hunt and peck with a single stiff index finger like the majority Internet-savvy seniors his age? So how does his campaign explain the dozens of email exchanges between him and reporters that have been referenced in the New York Times and other publications?  Are staffers writing his emails for him? And how do they explain the nimble fingers displayed in this video of McCain handling his cell phone on the floor of the Senate?
I suppose if the 72-year-old McCain would release his complete medical records, like every other nominee in recent years, we might know for sure.  But they won't.  Because the McCain/Palin administration promises to be the most opaque since… well… Bush/Cheney.
Honestly… if in the midst of what former Federal Reserve Chairman Alan Greenspan calls the greatest financial crisis in his lifetime, McCain's top economics adviser has to reach so far into his bag of bullshit as to make the facially ridiculous assertion that John McCain had a role in inventing the BlackBerry, how can we trust anything from any member of the McCain campaign on any issue?
The truth is, we can't.
UPDATE:
And as it turns out…
Blair Levin, who is currently Managing Director at Stifel Nicolaus and served as [former FCC chair Reed] Hundt's chief of staff … pointed out that McCain actually voted against the Omnibus Budget Reconciliation Act (OBRA '93) that "authorized the spectrum auctions that created the competitive wireless market that gave rise to companies like Research in Motion [the creator of Blackberry]."
Why am I not surprised?