Republicans rooting for the failure of the Obama administration will be disappointed by today's unexpected jobs report that showed unemployment falling from 10.2% to 10%, while the U.S. economy lost only 11,000 jobs in November.
Not a stellar day for Mark Griswold.
Update [Darryl]: From the Bureau of Labor Statistics report comes this graph (with colors modified to reflect political party):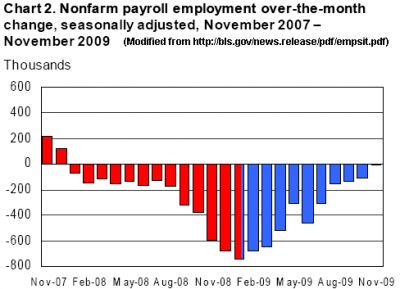 Notice the November number is practically zero compared to numbers from the past 22 months. The graph highlights the differences under Republican economic policies compared to Democratic economic policies.
It also substantiates the labels: "The Bush Recession" and "The Obama Recovery."