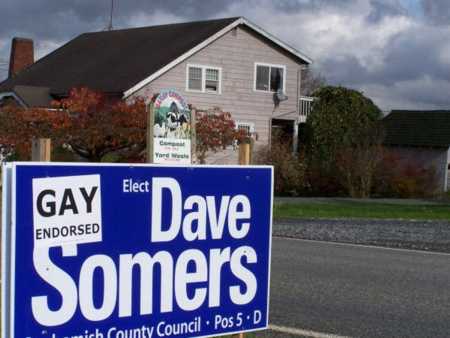 I've been meaning to write about the Snohomish County Council race between Republican Jeff Sax and Democrat Dave Somers… but simply have run out of time. So instead I'll point you towards Lynn at Evergreen Politics, which has the latest on Sax's last minute, building industry funded smear campaign.
In a last minute attempt to prevent Somers from retaking this seat, Sax has mailed out and distributed at least six different last-minute pieces containing lies and more lies. They've also slapped "GAY endorsed" all over every large Somers sign in the district.
There are few races in which the differences between the candidates are as stark as this one. Dave Somers is a fisheries scientist and land-use analyst, with an established record as a former councilman of a reasoned, managed approach to Snohomish County's explosive growth. He is endorsed by every major paper.
Jeff Sax on the other hand, is a pro-sprawl, building industry shill… a sitting councilman, currently under criminal investigation for leaking confidential documents, who was also caught building a house without a permit. Even a top Snohomish County Republican privately called Sax "an embarrassment to the party"… and for the GOP, that's saying something.
Let's just put it this way… if this were a lesser-of-two-evils race between Jeff Sax and David Irons Jr., I'd cast my ballot for Irons in a heartbeat.
UPDATE:
I've updated the post to include a picture of one of the vandalized signs. The Seattle Times has more about the vandalism (via Progressive Majority):
Snohomish County Council Democratic candidate Dave Somers awoke Sunday morning to the news that someone had appended black-and-white stickers to some of his campaign signs declaring, in big block letters, that he is "gay endorsed."

When told what the signs said, Jim Donner, a volunteer for Somers' Republican opponent, Jeff Sax, shot back: "Well, he is, isn't he?" But he denied the Sax campaign's involvement.

The small print on the signs attributed them to the liberal political group Progressive Majority, but Washington Progressive Majority director Dean Nielsen said his group had nothing to do with them. The group is supporting Somers' candidacy.
So my question to the trolls who will defend this vandalism… if I were to paste "Fascist Endorsed" stickers to Sax signs, with the small print attribution "Paid for by the Building Industry Association of Washington"… that would be okay, right?
UPDATE, UPDATE:
Progressive Majority has more on last minute dirty tricks against progressive candidates:
Down in Clark County, the local Republican Party emailed 2,000 of its supporters to notify them that Steve Stuart [campaign website], Progressive Majority's candidate for County Commissioner, had fallen on financial hard-times. In the very same email that GOP operatives claim they will not make Steve's financial troubles a political issue in the race, they encourage their activists to contact their local news media about just this issue. It's a political about-face and voters deserve better. Steve has huge community support in Clark County – this is just another example of smear tactics from a desperate campaign.

And out in Port Orchard, voters received a fake "Voter Guide" for City Council that compares conservative Jim Weatherill with Progressive Majority candidate Fred Chang [campaign website]. The hit piece stereotypes Chang for being Chinese-American as well as being gay, and notes that he's endorsed by "ultra-liberal political organization, Progressive Majority Washington". Weatherill claims he's not involved, even though the mail disclaimer reads that it's paid for by his campaign committee. Given that Fred won the primary with 48% to Weatherill's 28%, the conservatives are pulling out their dirty tricks in the final stretch.
It's time to tell GOPolitburo Chair Chris Vance to stop the bullshit!