I suppose one of the more shocking aspects of yesterday's Charlie Hebdo massacre was that it happened in the West, where both laws and cultural norms tend to provide near absolute protection to freedom of speech and freedom of the press. "I disapprove of what you say, but I will defend to the death your right to say it," Voltaire is often credited with saying, a quote that while misattributed, still accurately represents both Voltaire's sentiments and that of the broader French tradition. Here in the US and other modern democracies, a journalist might occasionally risk his job by speaking his mind, but almost never his life or liberty. A free press is absolutely essential to sustaining a functional democracy; indeed, neither can long survive without the other.
That is why, beyond the obvious human tragedy, the assassination of political cartoonists has so united citizens of the free world in outrage and mourning. This was an attack on the most fundamental tenet of modern Western civilization, a principle on which there cannot be an inch of compromise if democracy is to survive.
That said, it would be a mistake to be too Western-centric in our celebration of journalistic courage while ignoring the thousands of journalists who risk their lives pursuing their profession in parts of the world where freedom of the press is denied either in law or in practice. According to Reporters Without Borders, 96 journalists were killed on the job in 2014, while thousands more were arrested, threatened, kidnapped, and assaulted. And a quick scan of the list of victims will find it dominated by Arabic and other Islamic names, journalists who faced death or imprisonment every day of their professional lives.
I have long blogged by the unofficial motto "write fearlessly, or don't bother writing at all," but that's a pose of false bravado that's easy to assume when writing from the relative safety of the United States. (Also, when writing from the relative obscurity of just another local political blog.) But I've always been left a little in awe of the journalists who fearlessly pursue their profession in parts of the world where mere words or drawings can easily get oneself killed, beaten, or imprisoned. Which is why for the past several years I've been proud to use as my avatar on Twitter, Facebook, Slog, HA, and elsewhere the following unflattering caricature sketched of me by Tunisian political cartoonist Imed Ben Hamida: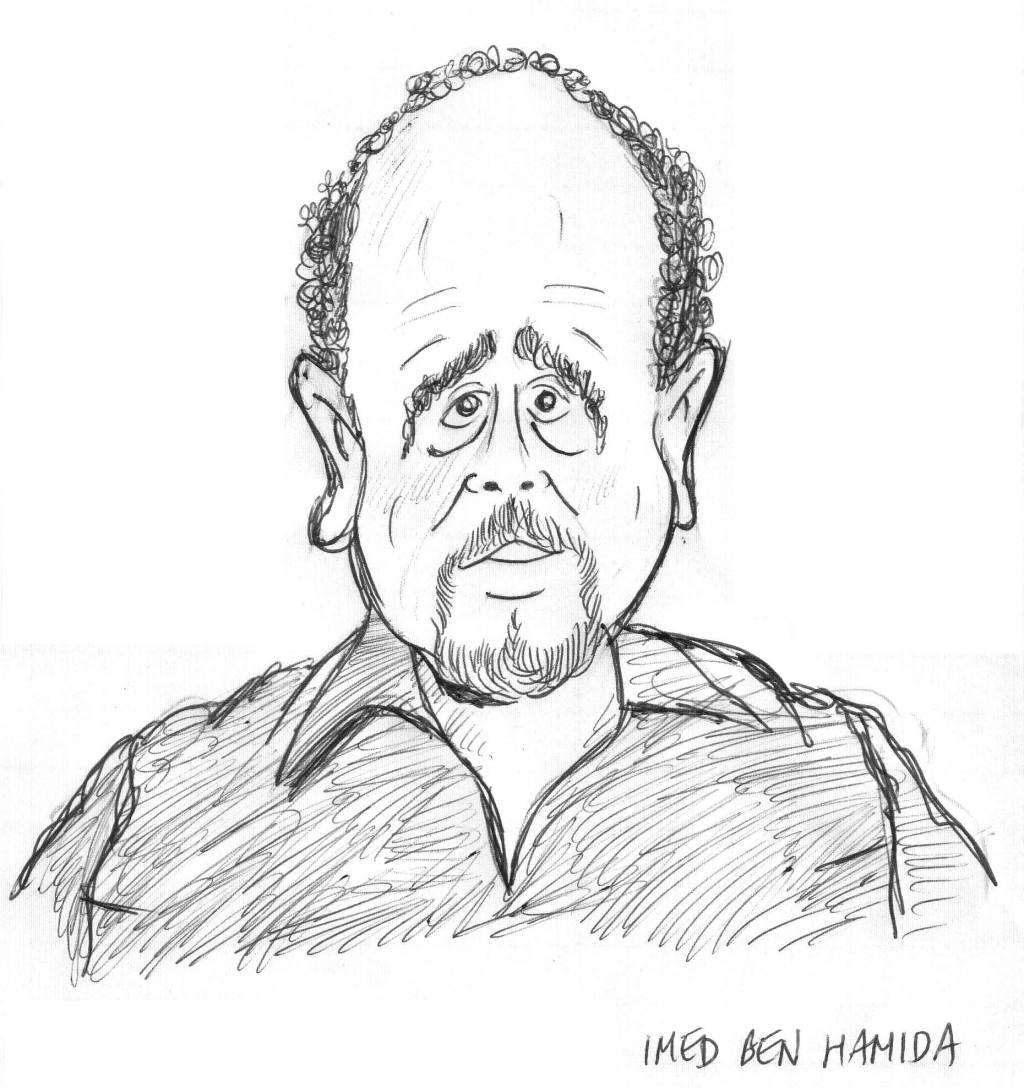 A couple times a year, in my role as foul-mouthed blogger, I meet with visiting foreign delegations, usually journalists, through a program run by the State Department, and administered locally through the World Affairs Council. And in the summer of 2009 I met with Imed and five other political cartoonists from Tunisia, Qatar, Egypt, Algeria, Bahrain, and Kuwait. Here's how the State Department briefing document described that day's program:
Designed for political cartoonists from the Near East and North Africa, this program will examine the role of a free, independent media in a democracy vis-à-vis political cartooning. Participants will examine the practices, techniques, and ethical responsibilities of political cartoonists, the philosophical beliefs underlying their work, and the impact that their cartoons have on history, political debate, public opinion and free speech.
I always enjoy these meetings, but I remember this one being particularly fascinating. It was a year and a half before the Arab Spring, and much of our conversation centered around issues of press freedom. They seemed both amused and surprised at the manner and degree to which I could savage government officials and other subjects without fear of reprisal, and I was curious about how they could effectively ply their craft given their own legal and cultural constraints. (The short answer: "subtly.") But we all agreed on the crucial role of political satire in shaping an honest and effective public debate.
The point of this tangent, I suppose, is to remind ourselves that our battle is with a small group of Islamist extremist assholes, not the Islamic world as a whole—an Islamic world that includes political cartoonists not much different from those who were brutally gunned down in Paris. They may not share all of our values, but they share many of them. And my strong impression from our conversation was that far from hating our freedom, these Arabic speaking political cartoonists understandably envied it.
And so in the wake of the Charlie Hebdo massacre I continue to wear my Tunisian-drawn avatar with pride, and in a show of solidarity with political cartoonists everywhere.