So according to Glenn Greenwald the lovely Fox Noise channel is going to "war game" a possible civil war this week. Nice.
They discuss a coming "civil war" led by American "Bubba" militias — Beck says he "believes we're on this road" — and they contemplate whether the U.S. military would follow the President's orders to subdue civil unrest or would instead join with "the people" in defense of their Constitutional rights against the Government (they agree that the U.S. military would be with "the people"):
I really don't have much comment other than to offer an image. It's one painted onto the wall of the state capital in Topeka, Kansas. This is my cultural heritage, if the "Bubbas" want to start in with waving the bloody shirt after 144 years.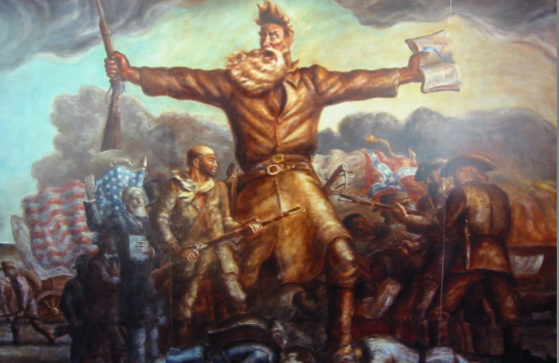 At least 618,000 Americans died in the Civil War, and some experts say the toll reached 700,000. The number that is most often quoted is 620,000. At any rate, these casualties exceed the nation's loss in all its other wars, from the Revolution through Vietnam.
The Union armies had from 2,500,000 to 2,750,000 men. Their losses, by the best estimates:
Battle deaths: 110,070
Disease, etc.: 250,152
Total 360,222

The Confederate strength, known less accurately because of missing records, was from 750,000 to 1,250,000. Its estimated losses:
Battle deaths: 94,000
Disease, etc.: 164,000
Total 258,000
Oh, and BTW, the Union won. Funny how the "Bubbas" always seem to forget that part. The South was destroyed by military force, occupied, and then ultimately (after another 100 years) forced to submit to the rules of civilization.
They can bitch and moan about it all they want on AM radio, but they still lost. You don't see me putting pictures of John Brown on my pickup truck and calling for neo-Reconstruction, now, do you? Although I will still argue that Florida should have lost some Congress-critters after the 2000 election debacle….