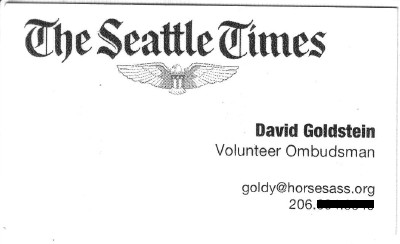 More than a little giddy after forcing the local media to finally pick up the Doug Sutherland sexual harassment story (as a blogger, that's the kinda shit we live for), I headed off to Netroots Nation with some hastily printed business cards in hand. On one side was the HA Seattle logo and all my HorsesAss.org contact info, while the other side mockingly sported a Seattle Times logo and the self proclaimed title of "Volunteer Ombudsman." The card proved a big hit with my fellow bloggers.
Well it looks like I may also have to print up a Seattle P-I version of the card, as nine days after the story broke, our city's second daily has finally decided its customers deserve to read the facts too. And as it so happens, it is also nine days since P-I reporter Chris Grygiel, in an email to The Stranger's Erica Barnett, defended his paper's decision not to run with the story:
"Sutherland and the woman had different accounts of what happened… According to the documents, Sutherland met with the woman at her request and followed through on other antiharassment protocols she had suggested… No disciplinary action was taken and there was no payment of state funds in any settlement. We decided to pass on the story. People can certainly second-guess our decision, but that was the reasoning at the time."
So what's changed between then and now to cause the P-I to second-guess its own editorial judgment? Nothin'. Except, maybe, the fact that they probably felt more than a little silly sitting by quietly while the rest of the local print and broadcast media jumped on such an obviously sexy and relevant story.
The dailies still have an enormously larger audience than us lowly bloggers, and they likely always will, but the days when they were the exclusive arbiters of what is or is not news are now over. You gotta think that's eventually gonna weigh heavily on future editorial decisions about stories like this.