[NWPT54]Since 1940, Washington state's gas tax has risen more than fivefold, from 5 cents a gallon to 28 cents a gallon… and yet, adjusted for inflation, the per-gallon value of the tax has actually fallen almost in half. Indeed, even when the recently enacted 9.5 cent a gallon increase is fully implemented in 2009, the effective tax rate in real dollars will still be below historically average levels.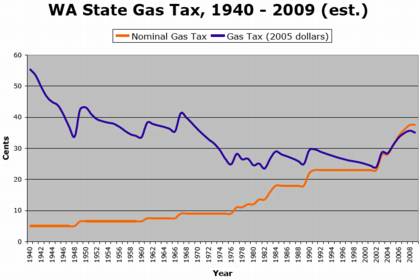 The chart above tracks the gas tax from 1940 though 2009. The orange line represents the nominal gas tax in actual dollars (well… cents.) The blue line represents the gas tax adjusted to 2005 dollars, using the Gross Domestic Product Deflator historical data included in the US budget. (The GDP Deflator is estimated for 2004 through 2009.)
Because the gas tax is levied as a fixed dollar-value per gallon, rather than as a percentage of the sale price, the value of the tax is gradually eaten away by inflation unless the tax is periodically increased… which is exactly what the Legislature has routinely done since the tax was first implemented in 1921. Indeed, one of the reasons the recent round of tax hikes seems so shocking, is that the Legislature failed to raise the tax from 1991 through 2002, allowing real revenues per gallon to fall near an all-time low. It is no wonder that during that time, maintainance was deferred, and our transportation infrastructure was allowed to slip into its current state of gradual decay.
If we want to have a real debate about the transportation bill and the initiative to repeal it, then we're going to have to start with some real numbers.