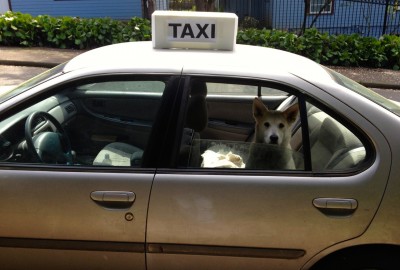 If you can't beat 'em, join 'em, that's what I always say, which is why I've decided to supplement my unemployment by driving part-time for Hoopty™, Seattle's newest ride-share company!
Hoopty fully embraces the efficiency of the unregulated free market to deliver the future of ride-share today, conveniently offering both prearranged and hailed pickups through your smartphone—just call, text, or email me from your smartphone, and I'll come pick you up! All of our vehicles have passed the state emissions test, and are guaranteed to have been driven fewer than 100,000 miles (at least for the next 600 miles or so). You can recognize Hoopty by the cracked windshield, the menacing dog, and our signature styrofoam "TAXI" sign crudely taped to the roof of the car.
Take that, pink mustache!
With Hoopty, you'll enjoy our casual user experience, sitting right up front with the driver. Unless the dog lets you into the back—Feisty hasn't bitten anybody in years, and even then, not much more than a nip, so you'll probably be okay—just don't make any sudden moves or loud noises.
At the end of your ride, your Hoopty driver will be happy to take your credit card, but unlike Lyft, Sidecar, and Uber, we also take cash and barter. (For example, we could really use a new windshield. And maybe some brakes.) And of course, all Hoopty drivers are carefully screened and fully insured. Don't worry how much insurance. Just trust us!
And finally, at Hoopty, we guarantee that you get what you pay for! Hoopty doesn't waste money on bells and whistles like app development or car washing or routine vehicle maintenance, allowing us to offer you the most affordable ride-share in Seattle. Tired of paying Uber's infamous surge pricing? We promise to charge you something less than that, or your money back!
Ready to try Hoopty? Feisty and I will be cruising downtown Seattle this afternoon picking up hailing passengers; just look for the menacing dog and the styrofoam sign, and scream out the special offer code: "Goldy, I need a ride!" As for Hoopty's legality, well, it's not like Lyft, Sidecar, and uberX have a monopoly on breaking Seattle's taxi and for-hire laws. So while we don't technically have a for-hire license or anything, we don't expect the Seattle police to bother to stop us, let alone issue a citation. And if they do, we'll just sue the fuck out of the city for selective enforcement.
Hoopty™: Because if Wall Street backed ride-share companies can break the law, anybody can!