Well, okay, this is not a secret if you follow Washington politics, but it's worth bringing up right now.
According to Open Secrets, Rep. Brian Baird's (D-WA-03) top three metro areas for donations last cycle, excluding PAC contributions, are Portland-Vancouver, Seattle-Bellevue-Everett and Washington, D.C.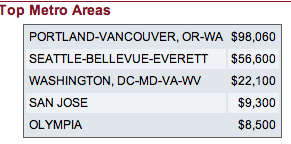 And it sounds like the heat is ratcheting up. From Politico:
A delegation from Vancouver's Clark County Democratic Central Committee on Monday requested a meeting with Baird in the district to encourage him to vote yes on the final version of the Health Care Reform bill.

Chris Bassett, a Vancouver-based Democratic activist who writes a blog about Clark County politics, said the congressman had damaged his standing within the party.

"Brian's really moving the wrong way," he said. "A lot of Democrats are going to sit on their hands in 2010."

"This, for a lot of folks like myself frankly, is the last straw," Bassett said.
I've been tempted to write that the lesson I took away from the Guns of August was that being over-the-top rude and crazy is the best way to get Baird's attention, but as we all know, liberals are expected to be civil at all times. Don't want anyone hitting the fainting couch. Jolly good, tea and crumpets, gov'nor.
So I politely and respectfully hope that individual donors to Baird, many of whom live in the Puget Sound region, will consider politely encouraging him to vote for the final bill, assuming the Stupak-sepsis amendment is removed. Did I mention be polite?