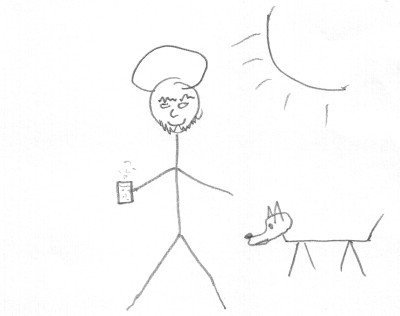 I didn't pay much attention when Seattle cartoonist Molly Norris's suggestion of "Everybody Draw Mohammed Day" took off and became an Internet phenomenon, because I'm not a cartoonist, and frankly, the whole Muhammad cartoon thing was so 2006. That is, I didn't pay much attention until yesterday, when Norris's lark apparently earned her a spot on an Islamist terrorist hit list.
And so, as a staunch defender of free speech, no matter how inappropriate or offensive, I feel it is my duty to stand with Norris by posting a Muhammad cartoon of my own. And I urge all small "d" democrats to stand with me too. I mean, what are they going to do… kill us all?
Now granted, I'm not much of a graphic artist, but I did the best I could. And while I have no idea what Muhammad looks like, I know it's hot in the desert, so for the sake of realism I've drawn him enjoying a cold, fizzy beverage. I'm guessing, seltzer. And it's very refreshing. That's why Muhammad is smiling.
Oh, and that dog in the picture, I know Muslims think dogs are unclean or something, so I want to be absolutely clear that this is not Muhammad's dog. It's just some dirty street mongrel that keeps following Muhammad around, trying to grab his seltzer, which might explain why he's not too keen on dogs. In fact, had I drawn him feet, Muhammad would probably kick the dog. But I like dogs, so I didn't. (I just thought I'd explain the whole dog thing, so that you wouldn't think I'm being culturally insensitive.)
Anyway, the point is, it's just a fucking cartoon for chrisakes, so Anwar al-Awlaki should just get a life. And, just to prove that I'm an equal opportunity blasphemer, and have nothing in particular against Islam, here's a cartoon of Jesus drinking a Slurpee™: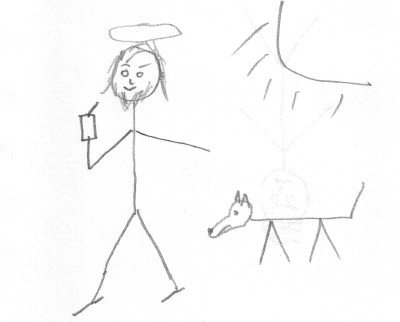 And yes, I drew Jesus with feet, because he strikes me as the kinda guy who probably liked dogs.