It is curious to note that in all the press coverage of the Dems use of The Sopranos theme song in their Rossi/BIAW video, only Postman bothered to mention that Rossi himself routinely tries to paint Gov. Gregoire as a mobster, by directly referencing Tony Soprano his stump speech.
Huh. So, the TV news folks et al didn't think this a relevant tidbit of information, I guess because the Dems' choice of music is somehow a more unambiguous reference to Tony Soprano than an actual unambiguous reference to Tony Soprano? Are they shittin' me?
And while we're on the subject of ethnic slurs, when is the Italian Club of Seattle going to condemn KVI's Kirby Wilbur for saying that Dino Rossi looks like a "crime mob boss" …?
[audio:http://horsesass.org/wp-content/uploads/kirbywilburrossi.mp3]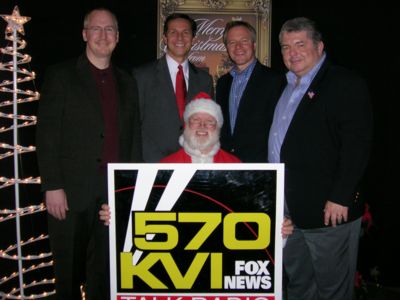 Dino and Kirby (far right) during happier days
Actually, Dino looks nothing like a mob boss; he's too, well, foppish. Kirby on the other hand, cuts a more, um, imposing figure—give him a scowl, a cigar and a Brooklyn accent, and he just might pass.
See, the thing about these Italian mobster stereotypes is that they're actually based on reality, which I imagine is one of the things that made The Sopranos such a compelling show. I lived in an Italian neighborhood in Brooklyn, around the corner from the church where the funeral for John Gotti's driver was held (after he was gunned down), and thanks to the local goombahs it was an incredibly safe place to live, you know… if you were white. A few blocks away it wasn't an uncommon sight to see a parked car stripped to its bones overnight, but I once parked my mother's convertible in front of my building for nearly a week without fear, because if you broke into the wrong car in my neighborhood, they'd hunt you down and kill you.
Are all Italian-Americans mobsters? No way. But in the mob-controlled neighborhoods of Brooklyn and South Philly with which I was familiar, most of the mobsters were definitely Italian, and they cultivated their own stereotypical look and feel in much the same way that my father and his Jewish psychiatrist friends tended to come off as Sigmund Freud impersonators.
Tony Soprano your stereotypical mob boss? You betcha. Kirby Wilbur a passable knockoff? Maybe. But Dino Rossi…? Not so much.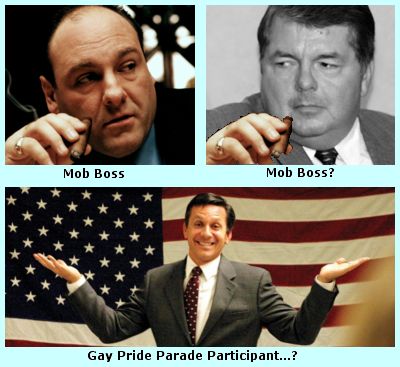 A song is just a song, but a picture's worth a thousand words and all that, so trust me… nobody is ever going to confuse Dino Rossi for a Tony Soprano style mob boss.