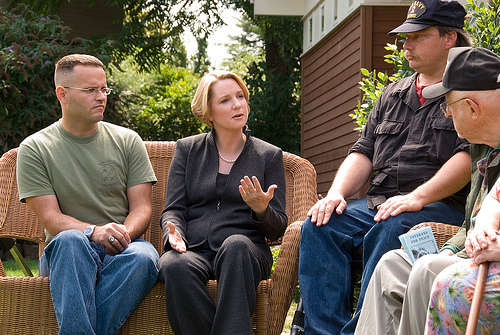 Over a month ago, I said this about the race among Democrats to take on Reichert in the 8th CD:
Unlike Goldy, I'm not committed to supporting a single candidate. At least not yet.
Today, I announce that I will be supporting Darcy Burner for Congress.
Democrats need an energetic new voice in Washington. We need a voice from Seattle's Eastside that will advocate for fiscal restraint and personal responsibility. We need someone who understands not only the high-tech businesses of Bellevue and Redmond, but also the VFW halls of Auburn and Buckley. Darcy Burner meets or exceeds all of these requirements.
While some folks question whether Darcy is the candidate who will lead Democrats to victory, I don't. Darcy fell just 8,000 votes short of victory in 2006. In New Hampshire, Paul Hodes lost to Rep. Charlie Bass by 20 points in 2004. Two years later, Hodes won, 52-45. The truth is, Darcy is much closer to victory in '08 than many candidates who are giving it second try.
Darcy Burner isn't the anointed candidate; if there are challengers, she'll have to beat them. If Dwight Pelz does what Paul Berendt did in 2004 by finding a celebrity candidate to run in the 8th, Darcy will have to beat that candidate, too. No one is owed a seat in Congress, or even a party's nomination.
Darcy has learned much from her first campaign, and I see no reason why she can't get another 10,000 votes somewhere in the 8th District.