Yeah, sure… I'm a hate talker. But Glenn Beck, apparently not so much:
I think there is a handful of people who hate America. Unfortunately for them, a lot of them are losing their homes in a forest fire today.
[audio:http://horsesass.org/wp-content/uploads/beck.mp3]
For the past week, Geov, Paul and myself have been posting our take on the morning headlines, attempting to provide a little context to the daily news. And in a way, that's exactly what Beck tried to do in referencing the wildfires ravaging Southern California.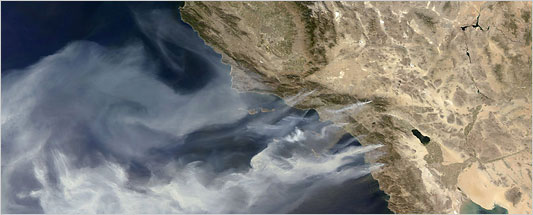 California wildfires, view from space
There are a lot of stories within the story of the devastating fires that have now forced half a million people from their homes, but for Beck, the story that leaps off the page is that some of the victims "hate America." That's the context Beck chooses to bring to this tragedy… a tragedy Beck doesn't view as simply unfortunate, but unfortunate "for them." It's almost as if he's gloating.
What sort of person looks at a natural disaster, and instantly sees the political ideology of the victims? What sort of person chooses to bring this sort of context to this story? Glenn Beck.