While my daughter and I were spared the indignity of the choosing between the porno-scanners and a TSA groping yesterday morning, according to the comment threads on Slog, other Sea-Tac travellers were not so lucky. Which got me thinking: if safety is really the overriding concern, are the feds bothering to inspect the airplanes as closely as the crotches of passengers?
Well… apparently not, at least judging from my casual inspection of the ubiquitous "tamper seals" on the access panel behind the toilet in the airplane lavatory. It's hard to see from the photos, but both tamper seals had be plied from the top panel, and were hanging a fraction of an inch in the air.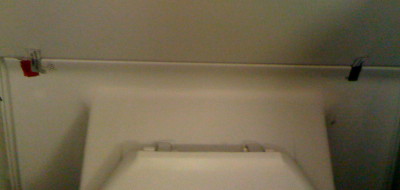 I've seen this before, and I've always wondered about the purpose. I don't know if there's a regulation, but since all airplane lavatories seem to have these tamper seals across the back panel, I assume there must be some concern about tampering, right? And yet, I routinely find these seals unsealed.
Huh.
Of course, I've had other unpleasant experiences with airplane lavatories, like the the time I flew cross country with all of them leaking sweet-smelling, bluish effluent into the aisles. Which brings me to my main point: statistically, by far the largest danger to passengers comes not from crotch or shoe bombers, but from shoddy maintenance. And as I wrote at the time…
If this is the sort of stunning lack of pride the airlines now show in the most visible sections of their aircraft, how can we trust them to maintain the parts we can't see?
And then of course there are the regional commuter airlines and their poorly-trained/underpaid/overworked pilots, like those responsible for the Continental Connection flight that crashed last year outside Buffalo NY, killing all 49 people onboard, and one on the ground.
But no, the only way to make us safer is to grab my thirteen-year-old daughter's crotch. Or so the angry trolls keep telling me.