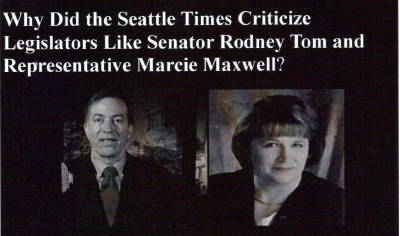 If only our government operated as efficiently as the private sector, I guess it wouldn't know the name of its own legislators either.
The hit piece above, mailed to 41st LD voters (click through to see the whole piece), is not only dishonest in its message (far from criticizing her, the Seattle Times actually endorsed Rep. Marcie Maxwell), but it also stupidly names the wrong state senator. Of course that's 41st LD state Sen. Randy Gordon's picture, yet the mailer twice names 48th LD state Sen. Rodney Tom.
Adding to the irony is that the hit piece was paid for by Americans for Prosperity, New York billionaire David Koch's far-right, ultra-conservative, faux-think-tank front group dedicated to privatizing Social Security… because, you know, the private sector is always more efficient than government. Or something.
Yup. These are the kinda folks I want handling my retirement account.
But then that's just par for the course in this election isn't it? An out-of-state billionaire funneling money through a secretive front group into a legislative race for chrisakes, against a local Democrat whose name he can't even bother to learn. That's American democracy for ya.