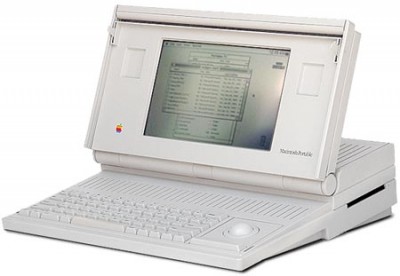 If I wanted to blow up an airplane, and was willing to lose my life in the process, I'd pack plastic explosives into a working laptop, and use the battery to power a detonator.
The thought first occurred to me years ago, during the heightened security measures following the first Iraq War, while traveling with my not so aptly named Mac Portable. This thing was huge and cavernous (its brick of a battery alone weighed over two pounds), with plenty of room for hiding contraband.
Security screeners at the time generally required that you turn on your computer to prove it worked, but since the Mac Portable could boot from a RAM disk, one could accomplish this simple task with both the hard drive and the floppy drive removed. I probably could've hid a pistol inside a functioning Mac Portable, and still had room for more than enough C-4 to bring down an airplane.
The same would be true of any full size modern laptop, especially now that TSA no longer checks that they're functional. Just remove much of the guts, fill the space with C-4, connect a detonator to the battery, and with a little tinkering you've got yourself a pretty damn powerful bomb. And if it doesn't detonate, at least you don't set your crotch on fire in the process.
I suppose one might get caught at security by one of those chemical sensing machines or a bomb sniffing dog, but what are the chances of that? I've flown dozens of times since 9/11 and I think I've had my carry-on items swabbed exactly once. Besides, if Umar Farouk Abdulmutallab could carry common explosives through security by stuffing them down his pants, I like my odds.
Of course, I don't want to blow up an airplane, but if a nonviolent guy like me can imagine creative ways to do so, I'm guessing a motivated terrorist could be just as innovative. Which brings me to my point.
One could build a powerful explosive device into even a functioning laptop… so, are we going to ban travelers from carrying on computers? Likewise, I bet I could fit a couple of pounds of C-4 into a hollowed out copy of Twilight, or stuffed within a foot-long hoagie. Are we going to ban books and sandwiches as well? All carry-on items? Puffy sweaters? Cargo pants?
Of course not. That would be silly. As are most of the new TSA rules issued in the wake of the undie bomber's unsuccessful terrorist attack. I mean, do you feel any safer having you and your fellow passengers confined to your seats for the final hour of a flight, especially knowing that it was your fellow passengers who subdued and disarmed Abdulmutallab?
We've already spent hundreds of billions of dollars attempting to make us safer from terrorism, some of the money well spent, but much of it not. At some point, we need to make a rational cost benefit analysis that assesses the true risk to the American people, and addresses it accordingly. For example, over the past decade, the odds of an airline passenger being killed in a terrorist attack have been about one in 10,408,947. The odds of being struck by lightning are one in 500,000.
Once again, I like those odds.