I've no idea where I was yesterday afternoon, but it couldn't possibly have been at an energetic, 3000-person strong pro-healthcare reform rally in Westlake Park, because I couldn't find even the tiniest mention of it in this morning's Seattle Times, so apparently, it never happened. And I have absolutely no idea where all those photos and videos on my camera came from.
It's like my own personal Twilight Zone.
Of course, whatever didn't happen in downtown Seattle yesterday, the picture above doesn't even begin to do it justice, with a sea of bodies extending building to curb, and all the way back under the cover of the trees. Aided by a live band and the wafting aroma of food from street vendors, there was a party atmosphere to the rally which made it feel kinda like a Bumbershoot pre-event. Or at least, it would have felt that way, had it actually happened.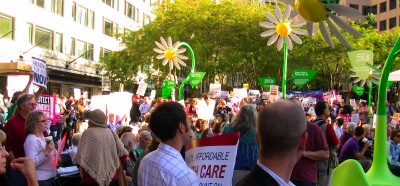 There was also, apparently, no counter-protest yesterday. No really, there wasn't much of one, with only a couple dozen angry teabaggers at most, cordoned off along a four-foot-wide strip of sidewalk in front of the Starbucks across the street.
This was the most flattering picture I could find, and it's pretty anemic: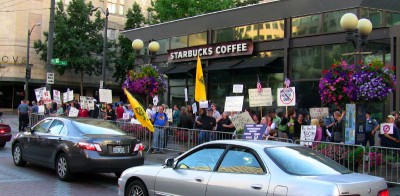 But like I said, since our paper of record didn't bother to report on it, none of this actually happened. 3000 people of all ages, races and walks of life didn't crowd into Westlake Park to rally in support of health care reform. A congressman didn't join business, labor and civic leaders in encouraging the crowd to make their support known. And a well-organized effort by counter-protesters couldn't muster up much more than a bullhorn and a handful of signs.
None of this happened yesterday in downtown Seattle because no ex-marine angrily yelled down a congressman and nobody got the tip of their finger bitten off and nothing apparently is going to get the media to move from the well-entrenched meme that support for reform is steadily slipping as the public turns against Obama and the Democratic Congress… not even a show of force by the public itself.
UPDATE:
Apparently, I wasn't the only one imagining yesterday's health care reform rally, and like me, they managed to capture their hallucinations on camera too.  Weird.
[youtube]http://www.youtube.com/watch?v=ouYXq5tSXb0&feature=player_embedded[/youtube]