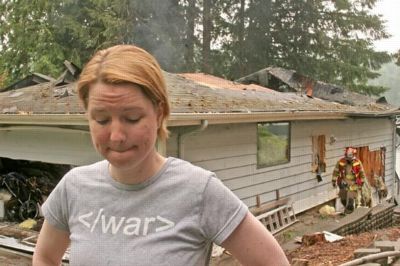 Photo by ELLEN M. BANNER/THE SEATTLE TIMES (h/t Dan Kirkdorffer)
There are lots of great progressive politicians, but when the P-I's Gregory Roberts asked me why the national netroots had so enthusiastically embraced Darcy Burner, I replied: "She's one of us. Deep down she's a geek."
Burner's spokesman Sandeep Kaushik hates that quote (as he reminded me last night), but that's because he doesn't come from the tech world where the word has become such a term of endearment that it frequently pops up in flattering self-descriptions on online dating services. I do come from that world—or at least, my life has strangely meandered through it—and while like Darcy, I may not fit the usual geek stereotype, I'm enough of one to instantly know the meaning of the code on Darcy's t-shirt.
"</war>"… that's XML for "end war." And the fact that this was the shirt that Darcy was wearing at 7AM when she and her family fled their burning house, tells us in the netroots all we need to know about Darcy Burner.
We've asked a lot of Darcy, and I've never known a politician who has worked harder to deliver. It was a grueling race in 2006, and after briefly pausing to digest her narrow loss, she got right back to work. But now she needs to take a few days off to tend to her family and herself… to literally get her house in order. And that's where we all can help.
Darcy needs to raise about $150,000 this July to keep pace with Dave Reichert and her own 2006 fundraising, and every day she takes off makes her campaign budget that much harder to hit. That's about $5,000 a day.
And that's why I'm joining with bloggers nationwide to ask our readers to contribute what they can today, to help give Darcy the breathing room she needs to tend to her own affairs without worrying about neglecting her campaign. Every $5,000 increment we raise represents a day that Darcy won't have to dedicate to her own fundraising efforts. It is a gift more precious than money; it is a gift of time.
Darcy has selflessly requested that you donate money to your local animal shelter or Firefighter's Benevolent Society, but she needs our help as well. So please give Darcy the time to get her house in order, so that come November, she can help us get our House in order too.
UPDATE:
So far we've raised over $25,000 $35,000 $50,000 $65,000 $85,000 this morning today via Act Blue, nationwide. That's roughly equal to five seven ten thirteen seventeen days of July fundraising. Please keep up the good work, and give today.