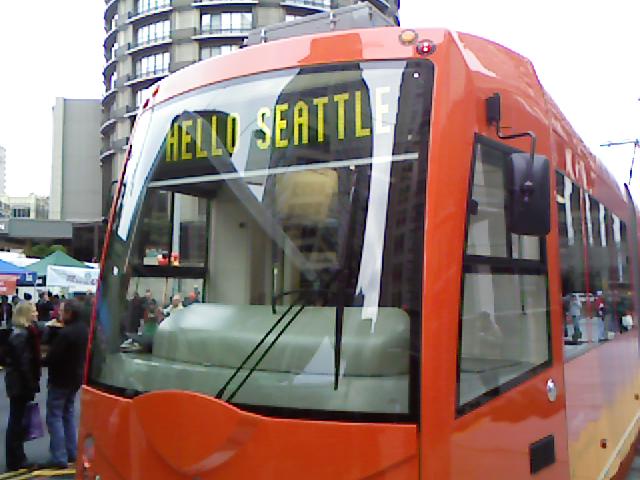 "I don't care what you call it, as long as you ride it."
Those were the Mayor's words just before the VIPs and press guys boarded the orange streetcar. Nobody referenced the streetcar's nickname. What a fucking relief. That joke is getting really old, guys. Real. Old.
I rode the second train out of Westlake. The sucker was packed, but everyone was excited. As folks were mashed in, I mentioned to the crowd, "it's starting to get really unpleasant… You know, like on a bus." Everyone laughed. People laughed because everyone hates riding the bus, at least on some level.
Folks were waving at the train, and from the train. You don't see this much with buses. People only wave from buses if they're going to summer camp or coming home from prison. I did the whole route, and on the way back I got off at Denny. The number 17 bus was coming up, and I said aloud to the crowd, "is anyone waiting for the bus?" Everyone laughed, because no one will wait for a bus when they can take a streetcar. No one.
There was a sad-looking lady holding a sign at Westlake that said "Watch Out for Injured Cyclists." I watched out, but all I saw were smiling, pleasant people waving at the streetcar. My heart goes out to cyclist who commute through the city, but the next time I see a fixie-riding, no-helmet-wearing douchebag hipster blow through a red light at 20 miles and hour, that goodwill goes away. If you're a cyclist that can't figure out how to ride your bicycle over railroad tracks, then maybe riding a bicycle isn't the best sport for you.
Which reminds me. I hear that a bicycle advocacy group is doing, or has done, some "protest rides" in South Lake Union, protesting the fact that the rails the streetcar runs on could pose a hazard to cyclists. Right. On a side note, me and some friends are going down to City Hall to protest the Treaty of Versailles.
Regardless of the internet whining, people who ride the streetcar tend to like it. It's a short line, but it's effectiveness as a transportation option only increases as it is expanded. Same thing can be said about the Link Light Rail. I will make a point to use it, and if I have the chance, I'd live along the route.
I've got a magnet on my fridge that tells me I've got a free ride on the Seattle Monorail, which opens the Green Line this Sunday. Except that it doesn't, because it never got built. The monorail fell apart, crushed by it's own hubris and a bullshit financing plan. Maybe this streetcar can be expanded to serve West Seattle, northwest Seattle, or other parts of town that were promised transit but never got it. Let's expand the streetcar throughout the "Center City", and deliver transit investment to the people who are most willing to ride it.